Seeing young people in the Maharagama Youth Centre is not a surprise, but on Wednesday, March 23 there were two strange visitors – A python and a cat snake. These snakes were in the safe hands of the Young Zoologists who had demonstrated the value of Sri Lanka's biodiversity to hundreds of schoolchildren gathered at the auditorium for their Environmental Education Day.
The Young Zoologists Association (YZA) is a group of young people aged between 14 to 35 who believe that awareness is the key to conservation. They have been educating the youth about Sri Lanka's amazing biodiversity since their inception in 1972 through various activities. Their Education and Public Relations Day is conducted annually for schoolchildren in the Western Province. Over 500 students from 21 schools participated in the event held on the 23rd.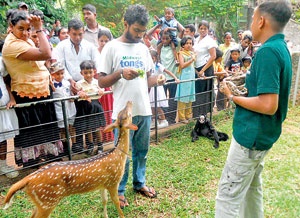 YZA members provide a close encounter with animals for visitors to the zoo
"The Python is not a venomous snake. Some believe that it has a sort of a tool on its tail that can inject venom after constricting the prey, but that is a myth," Mendis Wickremasinghe, a herpetologist said, explaining the python's life history to the curious group of young students. Mendis is now an expert in the field, but in the mid '80's, he was just another eager teenager like these students. He joined the YZA and learned about the reptiles from his senior instructors, who were also young though armed with wealth of knowledge in identifying wildlife and taking care of them.
After several years of training, Mendis became a senior instructor of the Reptile group and continues to work to protect Sri Lanka's biodiversity.
Environmental education is the YZA's main aim. Established by the then Director of the Dehiwela Zoo, Lyn De Alwis, YZA has been the first school for many Sri Lankan naturalists. Members of the YZA meet every Sunday afternoon from 2 p.m. – 5 p.m. and learn about different groups of animals. Birds, Mammals, Reptiles, Aquatic and Flora are the focus of their main study groups and members can join any of these according to their preference. There are field visits too organized by each group to help them study animals in their natural habitat. In addition there are also wildlife, art and photography classes.
Dr. Jayantha Wattevidana of the Open University speaking at the event shared the latest research in the wildlife field in Sri Lanka while Dr. Sudeera Ranwala of the Colombo University delivered a lecture on the forests of Sri Lanka. "We learnt a lot about these subjects. It is the first time we had seen a live cat snake. We now know how to identify a python and won't let it be killed if anybody tries," said a young participant.
This year's Education Day was also dedicated to the International Year of Forests and the UN Decade of Biodiversity. Issuing a special message, Executive Secretary of the UN Convention of Biological Diversity (CBD), Dr. Ahmed Djoghlaf said, "Given the magnitude of the problems we face, education and awareness-raising must be the centrepiece of any long-term strategy to halting biodiversity loss. Hence, more than any other group, children and youth – the future guardians of the world's biological resources – need to be engaged". Dr. Djoghlaf revealing results of a survey done with 10,000 children and young people around the world revealed ignorance on biodiversity is particularly acute among the young. "While species extinction rates are estimated to be up to 1,000 times the natural rate, only 9 percent ranked looking after animals as most important; 15 percent did not know what 'endangered species' meant".
President of the YZA 2011 Management Committee Sacheendra Deepankara says, "The public relation and education day is the first event YZA organized for non-members for this year. But lots of other events are lined up to pass the message of conservation creatively while showcasing the talents of our members."
YZA annually conducts a Wildlife Art exhibition titled Kin Wild and a wildlife photography exhibition titled Young Eye on Nature.
Join any one of these study groups
The YZA has just started its annual education programme for 2011. Those aged between 14 and 35 can join study groups on Birds, Reptiles, Aquatic Life, Mammals and Flora. Visit the Dehiwala Zoo on a Sunday around 2 p.m. and obtain membership. Queries can be made through srilankayza@gmail.com