You turned a page in history, I found a brand new world You walked a mile in search for me, believing I had worth, You're the reason why, my life's worth living, You turned a page in history, my life just took a turn…
Music director, composer and singer Rukshan Perera has done his bit to pay tribute to a great visionary who was able to uplift the living conditions of the poor in Bangladesh. Nobel Prize winner Dr. Muhammed Yunus, the inventor of micro credit lending to the poor - a model which was duplicated by many other countries and organisations around the world, became the subject of Rukshan's latest tribute song titled Turned A Page In History.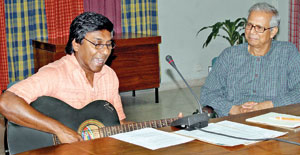 Rukshan performing at the Yunus Centre for a select crowd as the Nobel prize winner looks on
It came about as a pure coincidence while Rukshan was visiting his daughter Nadina in Dhaka . During a week-long stay there Rukshan had the chance to meet the Nobel Prize winner under whom his daughter has been working as project manager for the past two years. Rukshan composed the song at his daughter's request in just one day.
It's a song sung by the poor to thank Dr. Yunus for what he had done for them. In it is included Dr. Yunus' favourite line "to put poverty in the museum." When it was presented, the contents of the song moved Dr. Yunus and many other listeners.
"When I went to the Yunus Centre to sing the song for him, Dr. Yunus said he would like others to listen to it too. He organised the conference room at the centre and got about 40 people to come there to listen to the song," recalls Rukshan adding that he sang while playing his box guitar. Deeply touched, Dr. Yunus invited Rukshan to perform a second time at a social business event held in Dhaka which saw a large gathering of the business community.
Dr. Muhammed Yunus, founder of Grameen Bank, though currently in the centre of controversy over his removal as MD, is an iconic figure not only in Bangladesh but around the world. "As a composer this is the least I could do for such an incredible person like him. It was an honour for me to meet Dr. Yunus personally. With all his achievements, he is the most down to earth person I have met," says Rukshan.
Dr. Yunus has been awarded several prestigious international awards. An Economic Professor at the Chittagong University in the 70s he realised that economic theories had done little to improve the conditions of the poor. When he requested the banks to lend money for the poor, the banks said that the poor were not credit worthy. Dr. Yunus replied that banks were not people worthy and began his journey to look for ways to help the poor escape the poverty trap by way of his inventive solutions.
"He has special programmes for beggars too," Rukshan goes on to explain the contributions Dr. Yunus has made. "Dr. Yunus is a lesson to all of us. We go on with our lives without thinking about others. But here is a person who changed his life to bring about a change in the lives of those less fortunate," he adds.
A translation of Rukshan's song into Bengali is on the cards so as to enable the people of Bangladesh to hear and understand it, he adds. This is the third tribute song Rukshan has composed, following his tributes to the late great King of Pop Michael Jackson and our very own Clarence Wijewardene.
The song Turned A Page In History will be included in his next concert which he hopes to hold before the end of the year. "I will add other instruments when I perform the song here," adds Rukshan humming the lines for us; Sir, thank you for your wisdom, your vision and your care, I know God must have sent you cause such love is so rare…