SriLankan Airlines is taking steps to transform the Bandaranaike International Airport (BIA) into a regional hub for aviation training, after signing of an agreement with SIM Industries B.V. of the Netherlands to set up a Full Flight Simulator.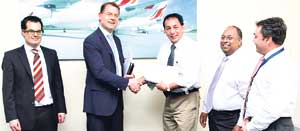 From left in the picture are -- Bas Klerx-CFO SIM Industries, Frank Uit den Bogaard- CEO SIM Industries, Nishantha Wickremasinghe-Chairman SriLankan Airlines, Manoj Gunawardena - CEO SriLankan Airlines, and Navin De Silva- Head of Flight Operations SriLankan Airlines.
The final 10-year agreement between SriLankan Airlines and SIM Industries was signed on Monday at the airline's corporate boardroom in Colombo by SriLankan Chairman Nishantha Wickremasinghe, Frank Uit den Bogaard, CEO of SIM Industries, SriLankan CEO Manoj Gunawardena and Bas Klerx, Chief Financial Officer of SIM Industries, the national airline said.
The state-of-the-art Flight Simulator will be marketed in the region by both SriLankan and SIM Industries for the training of pilots in the operation of Airbus A320 aircraft. The A320 family of aircraft is favoured for mid-range routes among airlines worldwide, including those in the rapidly growing airline industry of the Indian Subcontinent, the statement said.
SriLankan Airlines Chairman Nishantha Wickremasinghe said: "The setting up of this Full Flight Simulator is something we will be doing for the first time in Sri Lanka. It has been a long-time dream for SriLankan Airlines, which will now become a reality."
Flight Simulator training is a standard requirement around the world for airline pilots, and SIM Industries BV is one of the world's leading manufacturers and operators of flight simulators. Its full flight simulators contain the most advanced components from aircraft manufacturers, making the training experience a complete replica of real-life cockpit situations.
"SIM Industries has set up a large number of Full Flight Simulators around the world, and it is very important for us to have a training centre in this part of the world. There is a tremendous amount of potential to bring pilot training to Sri Lanka from around this region," noted Frank Uit den Bogaard
The national airline is already making plans to add a second Full Flight Simulator for pilot training on wide-bodied A330 and A340 aircraft, depending on the success of the first Flight Simulator. The Flight Simulator is scheduled for completion in six months.