Sri Lanka's Singer Group passed a financial milestone in 2010 by recording Rs. 16 billion in net revenue, the highest ever in the organization's history and representing a growth of 34.5% over the previous year.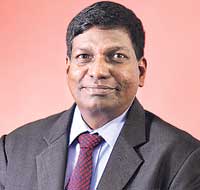 Asoka Peiris
"This steady trajectory of growth was driven by the Group's growth across all major product lines, including televisions which grew by 29%, refrigerators by 36%, sewing machines by 35%, audios by 68%, DVD players by 63%, computers by 63%, and washing machines by 68%," the company said in a statement.
Reviewing its performance, Asoka Peiris, Singer Group CEO, noted that 2010 was a year of significant progress for the Group, with "Singer driving some of the changes in the market place."
The Group markets and sells a wide range of international brands, including, for the first time in Sri Lanka, Skyworth-branded televisions and Sri Lankan consumers continue to remain fiercely loyal to the Singer brand, with Singer LCD televisions and lapops outperforming all other brands, the statement added.
Group net profit was reported at Rs. 669 million, up 403% over the previous year. Singer Sri Lanka has leveraged these extremely favourable financial indicators to further strengthen its product and service offerings.
Group Chairman Mr. Hemaka Amarauriya stated that with the growth rate of the upper- and middle-classes "expected to increase to double digits this year, modern trade growth is now visible across supermarkets, department stores, and malls."