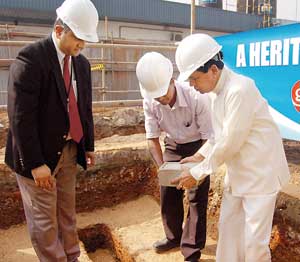 Picture shows Health Minister Maithripala Sirisena laying the foundation stone for the new plant
GlaxoSmithKline Consumer Healthcare - Sri Lanka, (GSK), makers of Panadol is constructing a new Panadol production plant which will be located next to its present pharmaceutical operation at Moratuwa.
As with all GSK products, this new plant will meet GSK's stringent global, quality control standards. The company produces a range trusted household brands like Panadol, Iodex, Haliborange, Sensodyne, Lucozade, Viva and Horlicks.
Sachi Thomas, Managing Director of GSK Consumer Healthcare – Sri Lanka said, "at a time when Sri Lanka is on the verge of an economic renaissance, GSK is indeed proud to further extend its Heritage of Trust and commitment to Sri Lanka by commissioning this plant in 2012. With the commencement of local production of Panadol, the consumer and the state are set to benefit, as a result of a consistently secure source of essential medicines."