MARDAN, Pakistan, (Reuters) - A boy who killed 31 army cadets probably had all the characteristics that make Pakistan's young suicide bombers so dangerous -- they are thoroughly brainwashed, poor, disciplined and hard to detect.
Police officials are running DNA tests on what is left of the young holy warrior's legs and scalp to determine his background and age, but they suspect he could be between 12 and 15. Pakistan, a strategic U.S. ally, faces ruthless and cunning Taliban militants determined to destabilise the government.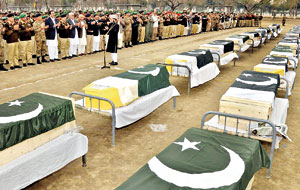 Relatives and officials pray near the coffins of victims, who were killed in a suicide attack at a military training centre, during their funeral ceremony in Mardan in northwest Pakistan on February 10. Reuters
Young suicide bombers are one of their most chilling weapons. "We are alarmed. We plan to beef up our security even more to avert such attacks," said Zeeshan Khan, a senior police official in Mardan, the town where the cadets were killed on Thursday.
"If incidents like this happen -- involving a child who is clad in a school uniform -- the implications are wider now. We have to look into this aspect." Pakistan's al Qaeda-linked Taliban movement, which remains a major threat to Pakistan's security despite military offensives against it, wasted no time in claiming responsibility for the attack on an army recruitment centre.
What makes a Pakistani child trade in his school books for a suicide vest? Experts say it's a combination of factors but the common denominator is poverty in the South Asian country. Many can't afford to send their children to good schools.
So they are enrolled in extremist religious seminaries that first began churning out youngsters eager for jihad in the 1980s to help the Afghan mujahideen fight Soviet occupation. They are instilled with the discipline of a soldier in the schools, known as madrassas, and guided by shrewd clerics who persuade them they are on a glorious path to heaven.
"The 12-year-old boy (suicide bomber) was probably inducted into a madrassa for the last five to 10 years," said psychiatrist Razwan Taj, who has treated young boys militants tried to recruit. "That means he (a cleric) has plenty of time to mould him to his way of thinking. The child sees no life outside the madrassa. It is everything. It is the provider of food, of an education, of social security. It's the world he knows."
More and more young Pakistanis will study at those seminaries unless the government invests in the country's crumbling education system and creates more jobs. That is unlikely to happen anytime soon because the government has limited resources. The stagnant economy is being kept afloat by an $11 billion International Monetary Fund (IMF) emergency loan.
The stakes are high. The United States sees nuclear-armed Pakistan as a critical ally in its global war on terror, so a growing threat from young suicide bombers is alarming for policy-makers in Washington.
Once children graduate from the seminaries, they are mentally primed to join militant groups, who give them rigorous training.
"They keep them in isolation, secluded from other people like foot soldiers. Only three to four people are allowed to meet them," said Abdul Basit, an expert on suicide bombings at the Pak Institute for Peace Studies in Islamabad.
"They are told they are God's chosen people who have been selected to this holy and sacred job of waging a holy war for the glory of the religion." Most Pakistanis reject the Taliban's version of Islam which allows for public beheadings and lashings for those deemed immoral. The Taliban often blow up girls' schools.
But Pakistanis understand that openly challenging their ideology can be risky. Parents who oppose recruitment of their children for jihad sometimes pay a heavy price. "If someone does not send their child for training, jihad, then they would be reprimanded. They are forced to leave the region or their houses are bombed or one of their relatives is killed," said Basit.
"They can also bomb their homes." After years of indoctrination, carrying out the actual suicide attack seems like the easy part. The Mardan bomber was likely pretending to be student on his way to class at a school located in the military compound.
To get a uniform, all he had to do was walk through the bustle of the main market past fish vendors, restaurants and electronics joints and purchase the outfit at a shop. Until the government offers impoverished Pakistanis a brighter future, the cycle that leads some young people to blow themselves up won't let up.
"A lot of girls and boys tend to want to leave (madrassas) and when their families refuse to take them back or can't afford to take them back then they react in different ways," said Taj.
"We are presented with odd behaviour such as strange talking or they become mute. Or they start to have histrionic fits which appear like epilepsy but are not."