BANGALORE, India, Feb 12 (AFP) - It would be the ultimate answer to the daily horror of gridlock on the traffic-choked, exhaust-filled roads of Indian cities. Unassumingly parked next to some of the world's most lethal warplanes, a converted 800cc Maruti hatchback has stolen some of the thunder from the supersonic exhibits at the Aero India 2011 air show in the southern city of Bangalore.
The attraction? Rotating blades fitted on the four corners of the roof, and a vacuum section around the tyres which — its inventor insists — gives the car a vertical lift-off capability, allowing it to soar over any traffic jam.
Built in the 1980s by Japan's Suzuki and only phased out last year, the Maruti 800 was India's first small car, revolutionising transport for millions of people for whom car ownership had previously been a distant dream.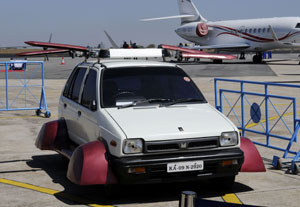 This file photo taken on February 11, 2011 shows a prototype of a flying car, called the "flying Maruti" developed by Indian innovator A. K. Vishwanath on the tarmac at the Aero India 2011 air show in Bangalore. AFP
Now A.K. Vishwanath is hoping his "flying Maruti" will have an equally dramatic impact on the way people look at car travel — although it has never actually flown and he is extremely tight-lipped about its exact inner workings.
"After studying 2.5 million shapes and objects linked to automobiles and working through complex theories I built this technique which will give my car vertical lift capabilities," the soft-spoken inventor told AFP.
Vishwanath, 52, has devoted the past 16 years to developing his prototype, obtaining 40 patents along the way, and says he drew inspiration from many sources, including the aerial prowess of bumble bees.
An electrical generator kickstarts the device, after which its original engine pumps out "energy flows" which, he says, will provide the lift-off and cruising capability.
"My invention is backed by complex mathematics and I have already tried a scaled-down version in a wind tunnel which I built myself," he said. The car was developed by Vishwanath's own company, B'Lorean -- named after his hometown Bangalore and the gull-winged DeLorean sports car of the 1980s, famously used as a time-travelling machine in the Hollywood blockbuster "Back To The Future".
Vishwanath says he has been approached by several firms willing to fund his work. "Business talk can begin, but only once the necessary paperwork is out of the way," he said.
Other specialists are also working on the project. "I believe in its principles and I joined him to learn more about the technologies involved," said engineer B.N. Raghukumar. Flying cars are hardly a new concept, and early prototypes of one sort or another were tested as far back as the 1930s.
Serious modern versions include the Terrafugia Transition, a "roadable aircraft" with a flying range of around 400 kilometres that was developed by Terrafugia -- a private company founded by MIT graduates in the United States. But the fact that the flying Maruti has yet to get airborne has left many sceptical about its inventor's claims.