Controversial Wikileaks founder Julian Assange allegedly boasted about fathering children all around the world and preferred his conquests to be 22 or under, according to an explosive new book. Former Wikileaks insider Daniel Domscheit-Berg describes Assange as a paranoid megalomaniac whose lack of personal hygiene and table manners suggest he was 'brought up by wolves'.
The book, Inside Wikileaks, which was released on Saturday, also claims the organisation was chaotic and unable to protect its sources. Julian's main criterion for a woman was simple,' said Domscheit-Berg, in an excerpt of the book, published by AFP.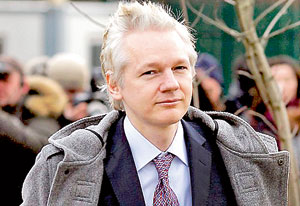 Unflattering: Wikileaks founder Julian Assange has been accused of being a paranoid megalomaniac whose lack of personal hygiene and table manners suggest he was 'brought up by wolves' in an explosive new book
'She had to be young. Preferably younger than 22. And it went without saying that she couldn't question him. ' '"She has to be aware of her role as a woman", he used to say.' In December it emerged that Assange has a 20-year-old son, Daniel, whom he fathered with his then-16-year-old girlfriend. Wikileaks regards Domscheit-Berg as a disaffected former employee and are taking legal action against him.
It is claimed he crippled Wikileaks's ability to receive new leaks. A Wikileaks spokesman said: 'In (his) book Domscheit-Berg confesses to various acts of sabotage against the organisation. 'The former WikiLeaks staffer admits to having damaged the site's primary submission system and stolen material.'
Assange was arrested by British police in November over allegations of rape. He is currently in London, fighting extradition to Sweden.
He denies the allegations and claims they are politically-motivated because Wikileaks has revealed various Government secrets. Last month, Domscheit-Berg -- who said he was Wikileaks's chief programmer and media spokesman -- launched a rival site, OpenLeaks.
Wikileaks claims the accounts in his book are false and that he has exaggerated his responsibility within the organisation. 'WikiLeaks has been taking legal action against a former employee, the former employee, Daniel Domscheit-Berg who was suspended from the organization in September,' current WikiLeaks spokesman Kristinn Hrafnsson told the AFP.
'It should be noted that Domscheit-Berg's roles within WikiLeaks were limited and started to diminish almost a year ago as his integrity and stability were questioned. 'His accounts of the crucial times in WikiLeaks history since April last year are therefore based upon limited information or malicious falsifications,' Hrafnsson added.
THE SECRET SON ASSANGE
In the late Eighties, by the time he was 16 or 17, Julian, his mother and stepbrother -- fathered by a musician -- found themselves living in a tiny cement bungalow in the foothills of the Dandenong Ranges, east of Melbourne.
Julian, his stepbrother and mother remained in their ramshackle home for about a year, but at that point 18-year-old Julian met a local girl of 16, with whom he struck up a relationship.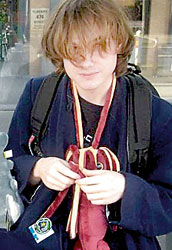 Daniel Assange, whose mother's identity is unknown, as seen in a photo from Facebook
Soon after, the couple moved a few miles away to a cottage which had been separated into two flats. This was the home where Assange's lover became pregnant. Even then he would spend hours on his computer daily, learning to hack into other computers as the web began to spread around the world.
Their son Daniel was born when Assange's girlfriend was 17, but it seems that even the arrival of a child was not enough to drag the fledgling-hacker away from his screen. As one former resident recalls: 'We'd see her walking down to the shops with the baby in a pushchair. She almost always seemed to be alone. 'You'd see her at the local launderette washing the baby's clothes, but it was a pretty rare occasion to see her and her boyfriend out together with the baby.'
A year or two later, the couple moved to a rented house in Melbourne, 25 miles away. It was there, in October 1991, that their relationship suffered a shattering blow after Assange was raided by the police.
He was caught red-handed with the tools of his burgeoning hacker's trade -- a £350 Amiga 500 computer and more than a dozen discs filled with the access codes of websites.
He was charged with a number of offences relating to computer hacking. For the mother of his child, it was the final straw -- she fled with the baby. Though the couple had gone through what they described as an 'unofficial marriage', Assange has remained deeply secretive about the mother of his child. The only time he has alluded to her was when he helped write a 1997 book called Underground: Tales Of Hacking, Madness And Obsession On The Electronic Frontier.
In it, he describes his girlfriend as 'an intelligent but introverted 16-year-old' whom he met through a friend. After she left him, he fell into a depression so severe that it led to him going in and out of a Melbourne hospital for six months. The pair embarked on a nine-year custody battle over their son, which was not settled until 1999. The agreement effectively meant that Daniel's continued upbringing would be his mother's responsibility. (Some have suggested that it was the stress of this custody fight that turned Assange's hair white.)
So where is the woman who perhaps knows Julian Assange better than any other? 'She's done very well at keeping her identity a secret,' says a former associate of the couple, who admitted that even he did not know who Assange's former lover really is.
'What we do know is that after leaving Julian she took up with someone else, married and had a new name.'
Today, their son Daniel, 20 -- who has been in hiding in Australia in recent weeks -- works for a software design company. Pictures identified as him on the internet show he has a strong resemblance to his father. While he has not talked about his mother in detail, he has given a clue that they now have a troubled relationship in a note left on Twitter. It simply said: 'Mother thinks I'm a monster.'
(C) Daily Mail, London