They were all there; the glitterati, the fashionistas, stylists, corporate bigwigs, bankers, media and photographers an hour before the show started waiting for the doors to open to grab the best seats.
It seemed that the HSBC Colombo Fashion Week is the event that all fashion enthusiasts look forward to, and this was evident from the throng that gathered at the Hilton Colombo foyer, an hour before the opening night.
The scene continued on all three nights except on the final night where the number of guests seemed to have doubled and some had to stand right throughout.
The Ballroom hall and chairs bedecked in stark white, the stage was set for a great show. Right on the hour Prasad Bidapa welcomed the guests and asked them to stand for the National Anthem.
The blockbuster three-day HSBC Colombo Fashion Week with 22 designers from Sri Lanka and 11 designers from abroad began on Independence Day. Whilst the Sri Lankan designers were exceptional, some of the new young foreign designers proved to be disappointing. As always India and Pakistan added all that glamour to the catwalk and this time it was from the red-carpet designers to the stars, Suneet Varma from India and Rizwan Beyg from Pakistan whose collections added sparkle and style.
| | |
| --- | --- |
| | |
| Suneet Varma | Alecca Carrano |
Taking the lead on the first day were the young Sri Lankan designers turning heads with their creative talents of high international standards. Middle Finger by Fahad Sheriff, Acushla by Sonali, Asanga, the FH Studio collection by Fouzul Hameed, the retro-chic Angel Dust collection by Paul Michael, LICC, Indie, Arugam Bay, Upeksha and her floral vintage collection all made an impact .
Gaurav Gupta of India too impressed the audience with his collection of ultra-feminine loose-flowing long dresses complete with fabulous details and different drapes. Disappointing though, were the two foreign designers Laksala from Russia and Dimitris from Italy. Much was expected from them.
Day 2
Ethical fashion billed to be the highlight of the Fashion Week took the ramp on the second day with Bibi Russell from Bangladesh setting the stage with her boho-chic peasant –type designs made from her home-spun weaves and fabrics. Complete with hand-made bandanas, wraps and accessories, the models went barefoot with only a cord tied around the ankle and toe. Thereafter, the collections to follow were rather subdued keeping with being ethical and 'green-conscious'. Stringhopper too had a no-nonsense collection of shirts in solid colours worn only with beige cotton trousers, with accent on black converse shoes with black and white check details .
Colombo Jewellery Stores then dazzled the audience with their stunning collection of jewellery designed by Akram Cassim. Kanchana Thalpawila of KT Brown who after last year's Fashion Week that catapulted her to an international stage, made her mark this time with her stylish flared trousers and skirts with emphasis on cut, style and creativity.
Dharshi Keerthisena has given her Buddhi Batiks a new modern twist. Her creations on both days saw a lot of beige on white with a hint of colour and rather harsh embellishments of sequins. But outstanding were her saree jackets with long sleeves and over-sized collars and the saree neatly pinned-up and tucked-in to emphasize the feminine form.
Again the two designers from Italy and Malaysia, Dimitris and Ultra respectively were disappointing. Ultra may have used biodegradable and recycled material on his designs very ethically, but he was not the best advertisement for Malaysia.
Avirate, the popular Indian brand in Colombo showcased their latest cosmopolitan fashions of cocktail dresses and pantsuits. The evening was brought to a bold and colourful close with Rizwan Beyg, the Pakistani designer's opulent collection of evening wear. His Moghul designs were sumptuous, feminine, rich and regal. His collection featured heavy brocades and silks encrusted with sequins and beadwork.
Day 3
The third and final day was a runway success. The evening began with SriLankan Airlines stewardesses treading the catwalk in their new uniforms. Outstanding were the prêt-e-porter collection Indee by Dimuthu and designs by Kasuni. Indee's collection saw subtle use of colours like nudes, creams, beiges and old-rose pinks in soft chiffons; cocktail-wear with just a hint of lace and beadwork. Kasuni's contemporary collection saw Beeralu lace insertions in organdy, Empire cut tops with frilled long-sleeves worn with harem pants. Agatha Ruiz De La Prada's collection looked more like costumes and show-pieces ideal for stage and drama. Her shoes were most unusual but perfectly crafted and lacquered in iridescent colours.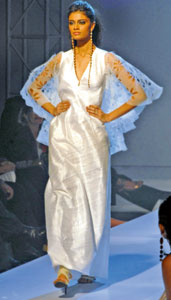 KT Brown
Alecca Carrano's collection was the epitome of bohemian chic. Her models walked barefoot wearing white and off-white linen trousers, kaftans, peasant-style tops and skirts, crocheted bandanas with accent on contrasting long black beaded chains and bangles . Embark by Otara got the most amount of applause even after she left the catwalk with her street pooch Niko and Bandi, her grunge and street fashion collection was youthful and hip.
Sarani of Mad Tea Party fame had dramatic designs that may have given confusing signals with cossacks or costumes, and the cross on display. Sri Lanka's very own queen of batiks Yolanda Aluvihare never fails to inspire the fashion world with her signature style sarees, kaftans and loose-flowing tops, exquisitely appliquéd in a fusion of colours, textiles and textures. In contrast were her black and white silk harem pants and tops that made quite a statement. Wearing one of her own designs, Yolanda walked the runway at the conclusion of her colourful and elegant show. The grand-finale was the western collection by Suneet Varma of India- 25 deliciously indulgent floor-sweeping sheaths. Dripping with sex appeal, and heavily embellished with sequins it was nothing short of spectacular.
Much accolades to Ajaiy Virr Singh, Prasad Bidapa and Dirk Flamer Caldera, for organizing a show of this magnitude. We hope to see more famed international designers at least from Malaysia, Singapore, Thailand, Taiwan and Korea at the next Fashion Week in Colombo.
The Sunday Times was one of the media sponsors for the event.