Severe floods have dominated not only the news in Sri Lanka but also the lives of over a million men, women and children in the Anuradhapura, Polonnaruwa, Trincomalee, Ampara and Batticaloa districts while landslide threats have also been the bane of those living in the hill country.
How many living away from the wrath of the weather gods in the so-called "safety" of the Colombo district, however, realize that they too may be on the brink of a disaster, brought on by the folly of humans themselves.
Land instability is creating serious issues for those living in some parts of Colombo, the Sunday Times understands, as the rains continue, sometimes as a mild drizzle and at other times as a downpour.
How does land instability occur?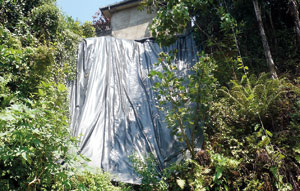 Precarious: Construction at Rathupaskanda on the edge of a steep slope.
Land slopes being drastically modified in the Colombo district due to population growth and a boom in development activity are the contributory factors, explains a scientist at the National Building Research Organization (NBRO), adding that even small areas have been utilized not only for the construction of houses but also public and commercial buildings, roads and other infrastructure.
Such modification of land slopes has been carried out without checking scientifically the stability of the slopes, the Sunday Times learns. "This leads to steep slopes in clay-rich lateritic soil 'failing' due to heavy rains," points out scientist K.M.D.L.T. Peiris attached to NBRO's Landslide Studies and Services Division (Colombo district), explaining that these "cutting failures" occur if existing gentle slopes are steepened or new slopes are created due to human activity.
The two major types of cutting failures observed in the Colombo area are failure of modified slopes adjacent to buildings and less-common road-cut failures, according to Ms. Peiris. "When making many of the cuts neither slope-stability nor protection through geo-technical measures of stabilization had been considered."
The slopes have been cut at steep slope angles which may not be stable depending on the geo-technical properties and the hydrological characteristics of the location. To make matters worse, she points out that buildings have also been erected very close to the cut. "In case of a failure, the damage to the building and danger to those occupying it are inevitable."
There are 30-35 feet steep cuts in some places in the Colombo district," she says, explaining that the NBRO receives information about cutting failures not only from the local government bodies such as Pradeshiya Sabhas but also from the public, after which field inspections are conducted and advice and technological assistance on how to mitigate and manage them provided.
After the intense rain last November, three such sites covering a large extent of land with about six houses in Angoda including Ruwanpura, Kongahahena and three houses located below the Vivekarama temple were in danger.
Another hazard has been created by the removal of soil for development activity which includes land reclamation and construction of embankments, the NBRO has found. When soil is removed from small hillocks, as practised in the Colombo district as well, what remains is "burrow areas" with high or near vertical slopes. Regrettably, such land is later auctioned for house construction, says Ms. Peiris, creating a picture of a disaster waiting to happen.
What most people don't realize, she explains, is that when such steep man-made slopes are exposed to weathering over 20-30 years, deformities occur, weakening the soil/rock, a precursor to collapse when lashed by continuous rains. Burrowing takes place in semi-urban areas which later undergo a house-construction boom due to accessibility and convenience.
Living on the edge adds to the danger, the Sunday Times learns. Ten houses built very close to a 35-40 ft cut were damaged by a failure in Rathupaskanda in Hokandara and the owners had to abandon them, says Ms. Peiris. The chaithya of the Diyawannawa Viharaya in Nawala is not even 5 feet from the edge of the slope while six houses on the boundary of the Sudharmarama Viharaya in Welikada, Rajagiriya are also close to the slope.
A third contributory factor is the collapse of poorly-designed and constructed retaining walls, it is understood. "Even though certain slope-cuts have been protected by retaining walls, their inadequacy of strength to withhold the slope, results in failure," says Ms. Peiris, stressing that such structures have been built by unskilled persons without applying geo-engineering measures. Citing a simple example, she says that many such walls do not have weep holes to control pore pressure or adequate reinforcements to withstand the impacts of pore pressure. In some locations, even though the retaining structure did have weep holes, they were blocked, resulting in failures.
During her many forays to such sites, Ms. Peiris has also seen garbage and toilet pits near slopes. "The water in those pits infiltrates the slope and causes failure by reducing the resistance of the slope's soil mass. A good water drainage system is vital to prevent failures."
How to prevent failures
Precautionary measures are essential before any building is constructed on land considered unstable, the NBRO advises, giving some guidelines. = A geo-engineering investigation is a must before planning and designing buildings in the future, taking into account slope structures to reduce the risk of disasters. Participation of both the community and regulatory bodies is mandatory.
=The land/soil characteristics and weather conditions at site should be studied before construction is undertaken and suitable measures included in the design. = It is crucial to put in a network for drainage keeping in mind the necessity to maintain it regularly.