It is afternoon with a blazing sun shining down but in the heart of the city, an electric saw is at work. It seems to be tree-cutting time down Gregory's Road, Colombo 7 and the top part of a large mara tree is being chopped up, branch by branch.
Along the road other smaller trees have been sacrificed to the saw, with logs being stacked by the side of this tree-lined road, with two backhoes clearing up the debris. Passers-by and residents were in shock, with one pointing out that slowly and surely, Colombo will lose its beautiful image of a garden city.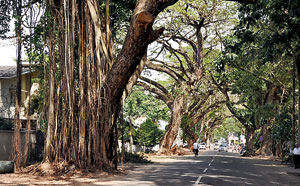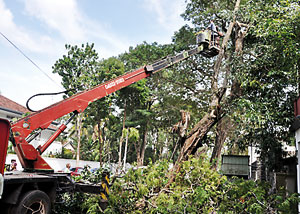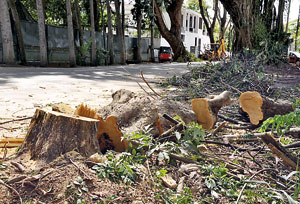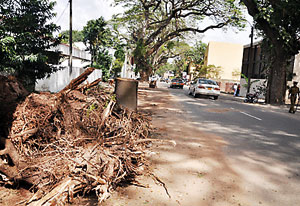 The scene at Gregory's Road on Thursday. Pix by Gemunu Wellage
Many are the streets in Colombo we can walk along without an umbrella for protection against the sun, said another, adding that the "canopy" of the huge trees provided adequate shade. Yes, massive trees stand like sentinels along many of the city's roads. What are they trying to do, asked another horrified passer-by, stressing that without trying to ward off the effects of climate change, Sri Lanka seems to be adding to it.
This is what the Sunday Times set out to find seeing the cranes and backhoes of the Colombo Municipal Council (CMC) at work along Gregory's Road. All trees along Gregory's Road will not be cut, assures Municipal Commissioner Bhadrani Jayawardhane when contacted by the Sunday Times, explaining that only small ones and "dirapu" (rotting) big ones will come under the saw. This is for the pedestrian walkways to be cleared and paved.
The big trees will be left and the area around fitted with paving stones, she says, adding that such work is not only being done on Gregory's Road but also along several others in the city.
Bauddhaloka Mawatha, Lanka Banku Mawatha and the area around the Public Library and the Beira Lake have benefited by this work undertaken by the CMC in collaboration with the Urban Development Authority, the Commissioner points out, stressing that interlocking paving stones are better than tarring the pavements or laying concrete blocks.
The same measures will be taken for the pavements along Galle Road from Bambalapitiya to Kollupitiya.
These paving stones leave the pavements even and smooth for easier use by pedestrians, including the blind with white canes, as well as wheelchairs and those with prams.
If a piece of a paving stone breaks off then that particular one could be removed and another fitted without removing all of them, she said. Interlocking stones cover a stretch of about five to six kms in the city already, according to the Municipal Commissioner.
"Wherever the roots of big trees lining the roads are above the ground, the CMC has sought the advice of botanists attached to the Forest Department how to deal with them." When asked about the costs, Ms. Jayawardhane said they were seeking sponsors for different stretches of roads.