Once upon a time an artist from London travelled across the seas to Sri Lanka. Here he discovered a whole new world and was inspired. This is Alex Stewart who unveils his newest collection of paintings titled 'Once Upon A Time' at the Barefoot Gallery this February, displaying a series of works influenced by an amalgamation of both European and Sri Lankan concepts.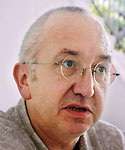 The artist.
A self-taught painter, Alex is passionate about his work. Although it began merely as a hobby at a very young age, it has now become a career for Alex and a huge part of his identity and life. "I am very lucky to be doing what I do," he says with the ever present smile on his face. Visiting Sri Lanka for the last 15 years, Alex found inspiration for many of his paintings through the life and culture of the Island. The tsunami that devastated the country in 2004 had a profound effect on him. He did a collection of paintings using layers of gold leaf as the backdrop after being moved by a quote that read. "Only when the sky turns gold can we see the true meaning of life".
When you first come across the series of "Once Upon A Time" you cannot miss the surreal feel of the pictures. While the subject matter tends to capture real life, its depiction is of an exaggerated nature. "I look at something strange and get inspired, but when I paint I take it a step further," he says.
The paintings while being mostly two dimensional, are a mix of both European and medieval south Asian art traditions. The hand drawn frame that is a part of Indian miniature painting is seen in Alex's work, yet interestingly enough he evolves the convention by breaking away from the frame and taking his subject beyond its boundary. The paintings are layered in texture. Alex adds that although he knows where to begin his work, he doesn't know where it will end. Painting leads him to draw and colour layer upon layer.
| | |
| --- | --- |
| | |
The artist uses techniques that are unconventional. For instance with an almost finished piece depicting decomposition and decay, he rubbed and smeared the surface and later painted over it. The use of white space is another interesting feature that heightens the sense of fantasy in the work. The rich and complex finish seen in the paintings of "Once Upon A Time" is accomplished through the use of mixed media "Watercolour, gold leaf, glitter, direction fluid, crayon and pretty much anything really." Alex relates that as an artist one must explore texture, composition, technique and colour to accomplish the right surface.
The most fascinating feature is the figure of the angel or the robe clad woman. She is a recurrent theme in all his paintings. The painter sees her as a guide to life but wishes her to be anyone in the eye of the beholder.
Alex Stewart captures life in all its strangeness and detail. It is real and surreal, complex yet clear. 'Once Upon A Time' is a reflection of every life. It is captivating not only because of the intricacies of technique and tradition, but also due to its association with Sri Lankans. The exhibition which continues till February 27 is a must see. For it is about life, your life. It is the story of what you see and feel. It is the tale told by you.
Visit www.alexstewart.net.