She is probably one of the youngest brides in Sri Lanka. She married at the age of 15 and now at 16 she wants a divorce from her husband.
Selvarajah Jayarani, a resident of what was once the "border" village north of Polonnaruwa, says poverty drove her to get married. She dropped out of school and lived with her partner as husband and wife. When she apparently had had enough of married life she had gone to the Manampitiya Police to complain that she wanted a "divorce". Police were unable to help her since the marriage was not legally registered.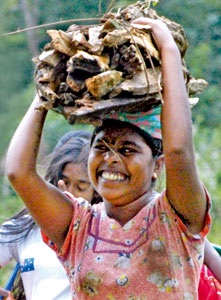 Selvarajah Jayarani: Her bright smile hides many- a tale of hardship. Pix by Saman Kariyawasam
Jayarani is one of thousands of underage Sri Lankan teenage girls who enter wedlock. Government officials say that such marriages are not uncommon in the districts of Polonnaruwa, Hambantota and Moneragala.
Jayarani's life revolves around daily chores such as collecting firewood, drawing water from the well, cooking, cleaning and washing. However, none of these has erased the smile off her youthful face.
Being the youngest in the family, she said, she was conscious of the poverty her family faced and the death of her father made things even harder. When she fell in love she believed marriage would open the door to a better life and she went to live with him as he was not interested in a dowry.
"But after marriage, he started asking for the dowry and quarrelled with me for not giving him any. His family was not as poor as my family," she added. She explained that there was no way she could go to courts and demand maintenance (after divorce) for a marriage which, according to the law, is not legally registered.
Sorivila, Jayarani's village, is one of the many agriculture societies that stretch along the Eastern Province border of Polonnaruwa. While most of the men are farmers, with young boys dropping out of schools to help their fathers in the fields, the women and girls are left at home. What they call home are small mud huts with thatched roofs or sometimes thatched walls too made of dry coconut fronds.
The houses offer little protection to young girls who are left at home when the elders go out to the fields.
Bare vacant land stretches for miles on end with little or no development programmes taking place in the area. Not falling under the "Uthuru Wasanthaya" or the "Negenahira Udanaya", the people in these villages have been forgotten and life is a daily struggle for them.
Although terrorism is a thing of the past now, there was a time when the only way the young girls and boys could evade the Karuna faction from conscripting them to the LTTE was to get married. That being the only option to 'stay out of trouble', people in these villages married early and the practice still continues.
P. Nadeesha (20) got married when she was 16 , had her first child when she was 17 and lost him when she was 19. Nadeesha sighs often as she talks of her life, as if to blow away the pain of losing her 1 ½ year old son to high fever.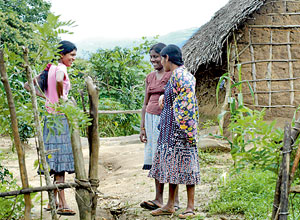 A group of young mothers whose only break from daily chores is a little chit-chat among themselves
Being married to a farmer, her days are spent around the daily household chores and spending her free time with the neighbours, many who, like her, are young girls who got married before they reached the legal age of 18.
Young girls like Jayarani and Nadeesha failed to get their marriages registered as they were underaged. They also would not be able to provide the registrar with National Identity Cards, as most people in these villages do not possess even birth certificates. This situation will only get worse for their offspring too with the legal provisions stating that when registering the birth of a child, the marriage certificate of the parents have to be provided. Therefore the children of these young women will have no birth certificates as their parents are not legally married.
Many Hindus according to custom, marry off their underage daughters –illegitimate notwithstanding. Most of the villagers here are not even aware of the legal provisions on age requirements for marriage until some of the young girls are hospitalised for confinement. Some couples legally register their marriage when the girl reaches 18 and till then they live as husband and wife bounded by religious traditions.
P. Nalini Kumari, N. Radhika, U. Saradha T. Kavitha are neighbours who share a similar saga of being married off when they were 16 and 17 years old. This group of girls look up to Nalini as the most educated person among them, as she had studied upto grade 10 at the Manampitiya Central School.
Married to a man who makes dried fish, Nalini is the mother of two daughters, Rekha and Banasri who are four and one year old respectively.
These young wives say that they dropped out of school due to lack of facilities and not enough teachers.
The area school, Sorivila Tamil School, has only a few teachers. After passing the fifth grade, if the students want to pursue higher studies, they have to go to Manampitiya Central School which has a good standard of education. The youth in the village feel letdown when they see this disparity between the Central school and the school in the area.
Even if they proceed upto the O/L examination, they come down in Mathematics, Science and English because of the lack of teachers especially in those important subjects.
Thamara Nandani Gurusinghe, a marriage registrar in Manampitiya, Polonnaruwa said that she asks for the birth certificate or the national identity card before registering the marriages of couples who come to her.
"I have had those born in 1995,1996,1997 coming to get married but I have refused," she added.
Meanwhile, Welikanda Division Assistant Government Agent Anura Premalal said that some fake their ages and get married and some don't register their marriages at all. He explained that there are villages in the area inhabited by Tamil Adivasis who believe that girls should get married as soon as they attain age.
He said that a mobile service had been launched in the area as well as in the Dimbulagala Division to create awareness among marriage registrars informing them of the legal implications and to prevent illegal marriages from occurring. He said 75 young couples who had been living together without legally marrying had been registered as a result of these mobile programmes.
What the law says
Girls above 16 can consent to have sex
However, teenagers are not allowed to get married until they are 18 even with the parents' consent.
The marrying age limit is not 17 years old and going on 18 but 18 years old and going on 19.
What the officials say
This situation of underage marriages is prevalent not only in Polonnaruwa but also in non-urban districts such as Monaragala and Hambantota. Monaragala District Secretary M. Kulasuriya commenting on the issue said that there aren't any official statistics available on the matter. "Sometimes the Police have statistics but that too isn't comprehensive," he said.
Mr. Kulasuriya said a programme was launched in the District to alert marriage registrars to the situation and to tell them to ask young couples for the birth certificates, identity cards or any document that would prove their ages when they come to get married and if not, to inquire from their parents.
"Awareness programmes have been conducted for Grama Sevakas and the public in the area regarding the legal implications behind underage marriages.
Hambantota District Secretary R.M.B. Mihigasmulla said that this is a common phenomenon in non-urban areas. He explained that steps have been taken by the District administration to prevent underage marriages taking place in Hambantota.
"Through awareness campaigns and other means, we can to some extent stop underage marriages but what is difficult to monitor is underaged couples living together, without getting married," he said.
What the All Island Marriage Registrars Association's president has to say
Greta Wickremaratne, the President of the All Island Marriage Registrars Association said that although upto 2006, teenagers above 16 could marry with the consent of the parents, since 2006, the law was amended whereby one has to reach 18 years to get married legally.
She added that however sometimes the police send young girls who are pregnant to the registrars to get them married off. "Even last week a pregnant girl came to me saying that she wanted to get married. She will turn 18 in December. I asked her to come on December 7 as her birthday falls on the 6th and then she could get married," Ms Wickremaratne said.
She said that even some marriage registrars were not aware of the law, adding how a recently appointed marriage registrar in Panadura had registered an underage couple as his first marriage registration.
She said it was important to make newly appointed registrars, parents and the general public aware of the legal requirement regarding the legal age for mariiages.