The sacred city of Kataragama was the setting for the celebrations of the 63rd anniversary of the country's independence on Friday (4) with military parades and cultural displays taking centre stage on the special day.
"Raja Veediya", along which the main parades were held, had been transformed into a perfect setting for the celebrations which attracted a large and enthusiastic crowd. It was especially a memorable day for residents of the southern most district of Hambantota, who gathered from early morning to secure a vantage point from which to witness the celebrations.President Mahinda Rajapaksa, joined by ministers, MPs, public officials as well as diplomats, led the nation in celebrations. The Commanders of the three armed forces along with the Inspector General of Police too participated.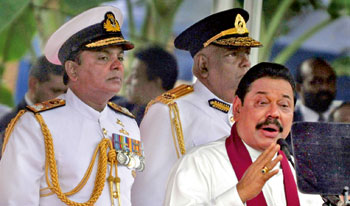 President Rajapaksa making the Freedom Day address at Kataragama
The ceremonies began with the President hoisting the national flag, followed by the singing of the National Anthem. The President then addressed the Nation, which was telecast live over national television.
In his address to the Nation, the President detailed the numerous development projects undertaken by the government since the defeat of terrorism in May, 2009. He made reference to the power stations at Norochcholai, Upper Kotmale and Kerawalapitiya, as well as the ports in Hambantota and Colombo, irrigation schemes such as Moragahakanda and Uma Oya as being among some of the major projects undertaken by the government.
Probably as a hint to his detractors who have been critical of the manner in which some of the development work has been undertaken, the President said that simply making popular decisions alone will not develop the country. "Inconvenient and difficult decisions are also necessary for the nation's progress.
It is the nation's responsibility to take hard and difficult decisions to bring light to the future of our children, rather than take popular decisions that will lead them to darkness ahead", he said.
He also emphasized the need to protect the freedom the country, won after defeating terrorism. The President also spoke on the adverse weather conditions that are causing chaos in many countries including Sri Lanka. "Although we are unable to control the effects of extreme weather, we are committed to uplift all those who have fallen victim to it," he said.
The President also spoke on the need to change our attitudes towards the future progress of the country, similar to the manner in which they began to think afresh about achieving victory over the forces of terror. "There is the need for an enormous attitudinal change from children to adults, to achieve national development," he added.
A military parade as well as several displays by school children and cultural troupes drew enthusiastic responses from the crowds.