Police probing the torching of the Lankaenews office at Malabe are investigating a foreign call said to have been received by a man who reportedly undertook a contract attack, which the editor and the journalist of the website office are dismissive of.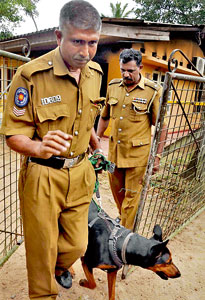 Police at the scene in Malabe Pix by Gemunu Wellage
Deputy Inspector General of Police (DIG) Daya Samaraweera told the Sunday Times that one of the suspects already in custody claims that the chief suspect had received a telephone call from overseas, for a contract to attack the office, with the assurance of a handsome remuneration.
"The person in custody has told us that the main suspect known as Sisira Jayalath, alias 'Boothaya', of Wellampitiya, had taken a call from a roadside phone booth. We are trying to trace the call the suspect is supposed to have received, as well as the one he had given," DIG Samaraweera said.
However, around the same time the office was torched, the Lankaenews News Editor had received a telephone call from an unknown person threatening him. But, journalists attached to the website office believe that the call received by the News Editor could have been to mislead the investigators, to suggest that the person who undertook the contract had called the News Editor of the attack, when it actually was a call to threaten him.
DIG Samaraweera said that the chief suspect has cases pending against him for robberies and arson, in addition to serving a jail term for possession of drugs. "He is a notorious criminal. We are looking for him," he added.
"The suspect in custody is also a drug addict, and had apparently been told to come along with the chief suspect, promising him money for drugs," he said. News Editor Bennet Rupasinghe told the Sunday Times that their website has been critical of the government, exposing corruption of ministers, hence had been threatened previously for such exposures.
"We believe that the attack was a move to suppress our work ," he said. "We have been writing much about corruption. One of our recent reports was of the fraud in the Ceylon Petroleum Corporation, compelling the government to take action regarding what we had exposed. We believe that exposing corruption also could have been one of the reasons for the attack," Mr. Rupasinghe said.
Meanwhile, he said there was a campaign to tarnish the name of the website by allegations that liquor, pornographic movies and used and unused condoms were found within the premises.
What the editor has to say
Editor of the Lankae-news Sandaruwan Senadheera who resides in Britain told the Sunday Times that according to information they had received four soldiers were involved in the attack.
"I am not satisfied with the investigations," Mr. Senadheera said adding that the police were controlled by "Temple Trees".