Most of the hotels and resorts in the country mainly cater to travellers without children. Double room concept is the most accepted rule in the tourism industry. But giving prominence to family holiday and family accommodation are rare but still a popular concept.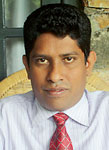 Manager Ravindra Gunesekera
In keeping with this 'Family Park' concept of preserving nature while complementing the best of it, Maskeli Oya Family Park Resort is set in a typical hill country surrounding.
Maskeli Oya Family Park Resort (MOFPR) is conveniently located within the hill country's most picturesque and popular sights. Just three and half hours drive from Colombo - Hatton Road vis Ginigathheha and Laxapana, the resort is in a four hectares of land and has been well preserved with a portion of the land being cultivated with tea and the balance preserved as a natural forest by the Kehelgamu Oya.
MOFPR is just thirty minutes drive from the Adams Peak. It is just one and a half hours away from Nuwara-Eliya making it a pleasant day trip. Climbers could also access the peaks of Thotapola and Kirigalpottha which are just an hour's drive.
'We are located on the Sri Lanka's most important catchment area close to Laxapana, Castlereigh, Norton Bridge and Maussakele. Apart from the hydro power projects and economic importancy, these reservouirs and the surround are breath taking beautiful' said Ravindra Manoj Gunesekera, the Manager of the Resort.
Maskeli Oya Family Park Resort started in June 2004 and has ten rooms that can accommodate up to 20 family members. The latest addition to the MOFPR is two log cabins, which is very popular with foreign travellers.
The original colonial structure is 'Nisansala' or silence as its earlier European owner called it, was re-modeled to give guests a taste of what it was like to live in typical Colonial. Built with the extravagance of a wood fireplace, hot spa with swimming pool, lake and vegetable garden, the main building is surrounded with a lush tea garden.
The main meals will consist of European dishes with authentic recipes from the plantation era, South Indian cuisine popularized by the large estate labour force. 'Our main attraction, apart from the nature is cuisine and service.
We have very service oriented team at the Park and the food we serve is typical authentic Sri Lankan food for anybody who loves Sri Lankan dishes' Ravindra said'Sri Lankan, Western, Continental and Orient culinary are our specialty. Visitors will be treated to fusion foods from the era of the British Raj' said their versatile chef Kandasamy.
Maskeli Oya Family Park is a popular base for excursions to explore the hill country. One could take an hour's hike to Aberdeen Falls while Laxapana Falls, Baker's Fall, Devon Falls and Elgin Falls are just an hour's drive away. Some of the country's most picturesque and well known tea gardens and factories at Watawala and Norwood are just twenty minutes away.
Hakgala Botanical Gardens, 'World's End' and the Horton Plains strict natural reserve are an hour and half drive and could be accessed through two very scenic routes from the Resort. 'Bird-watchers would be the happiest at Family Park' he added.
Corporate outdoor programme, Camping,Trekking, Mountain Climbing and Cycling are some of the adventure programmes included in the MOFPR activities. Maskeli Oya Family Park is owned by Mario de Alwis, the MD of the MA's Tropical Food products Limited. For more detais call 051 2232050.