Rising star, soprano Tharanga Goonetilleke, currently with the prestigious New York City Opera, will be performing with the Symphony Orchestra of Sri Lanka (SOSL), on February 12 at the Ladies' College Hall. She first performed with the SOSL in 1998 after winning the SOSL concerto competition in the vocal category that year.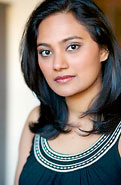 Tharanga Goonetilleke
Tharanga was granted a full tuition scholarship from Julliard in 2005, the first Lankan woman from Sri Lanka to be admitted to this prestigious institution, from which she graduated with a Master of Music in Voice and Opera.
Tharanga has been a winner in both New York and South Carolina at the Metropolitan Opera National Council Auditions, and also a winner in the Palmetto Opera competition in Columbia, SC.
" Soprano Tharanga Goonetilleke was enchanting………..It was the most extraordinary performance of this passage I have heard live" (Greenwich Times), "Tharanga Goonetilleke was a particular standout" (Washington Post), "Tharanga Goonetilleke sang gracefully" "Appealing rich tone" (New York Times), " Winning performance filled with emotional truth" (Opera News) , are some of the glowing reviews her performances have had in recent times. Harvey Steiman writing in the Aspen Times of her performance as Mimi at the renowned Aspen festival says " Her assured presence, creamy voice and delicious vulnerability marks her as someone on the threshold of stardom".
Her many operatic roles include Mimi in La Boheme and Lauretta in Gian Schicchi (Puccini), Pamina and the First Lady in The Magic Flute and Despina in Cosi fan Tutte (Mozart) and Genevre in Ariodante (Handel).
Sri Lankan audiences will have the opportunity to hear Tharanga perform some of the best known and best loved operatic soprano arias at the SOSL concert on the 12th where she will sing Handel's "Piangerò la sorte mia" from Julius Cesar, Gounod's "The Jewel Song" from Faust, Puccini''s "Musetta''s waltz" from La Bohème and Mozart's " Porgi, Amor" from The Marriage of Figaro. The concert also features the Brazilian flautist Celina Charlier in the attractive flute concerto by Brazilian composer Villani-Cortes, and the great "New World" symphony by Dvorak.
Tickets for the concert which is sponsored by the DFCC and Brandix, and supported by the Deva Surya Sena Trust, are available from Titus Stores, Liberty Plaza. The conductor will be Gregory Rose from the UK, whose last appearance in Sri Lanka was in the magnificent performance of the Verdi Requiem at the Anglican Cathedral in 2009. His visit is sponsored by Mohan Tissanayagam.