Among the many book lovers gathered in Galle for last week's Galle Literary Festival were three animated and excited young women, expressing their enthusiasm about being at the GLF. Even though this is the fifth such festival and quite well publicised one might say, they weren't aware of such an extraordinary event taking place in the south of the island.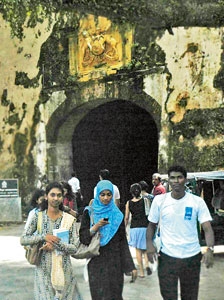 Sharing literature and breaking communal barriers amidst the Fort. Pic by Saman Kariyawasam
The students feel lucky to have been the first batch to be included in the special programme organised by the GLF to help unite the country through literature. The programme sponsors a group of university students from the north, east and south, who attended sessions together and ended the day with team building activities.
"We lack resources at our University, so most often we have to do our research online. Reading up on a subject isn't as beneficial as listening to an author and getting their views; and that's what the festival has given us," says Ghulam Mohamed Ruzdha Zeena (23) from the South Eastern University, who is in the 3rd and final year of her B.A in English Literature.
"The programme focuses on team building as well as meeting novelists," describes Jameela Hanoon Umar, lecturer in English at the South Eastern University. "It gives the students more exposure and they have to speak in English, which gives them more practice, as they rarely speak in English at the university," she says.
Ten students were selected from each university and they were shuffled into different groups. "They shared a room with students from other universities and along with the team building activities, this creates cohesion. It's a very good chance for them to meet other students and make friends," Hanoon Umar says.
"Sri Lanka needs such programmes to build the country as one nation," says Karuna Sivaji, an English language teacher at the Jaffna University. "Speaking as a human being and not a teacher, I want children to live in a peaceful community," she adds saying that programmes like these bring the students together helping them to learn from people from different communities and understand them better.
"It's been very nice getting together," says Nayomi Wijewardhana (24), a political science (B.A) student from the University of Ruhuna. "We've learnt how deal with diversity and appreciate it, to respect others and their cultures."
Agreeing with Nayomi, Vinotha Paramasamy (23), an English Literature (B.A) student from the University of Jaffna, adds, "We've been taught in school to respect other religions and cultures, but this programme has given us the opportunity to put that into practice. We've had a great experience."
Instilling hope in the younger generation and working towards a better future, the GLF is certainly going beyond being just a literary festival. The students and teachers of the participating universities were grateful to the organisers for including them. "For me, this has been an experience of a lifetime," said Ruzdha Zeena. "I will remember this extraordinary past few days till the day I die," she said, thanking their universities and the chancellors, the American Embassy for sponsoring the entire project as well as Namali Thilakaratne, the project coordinator.
Namali says the GLF hopes that the American Embassy will continue to sponsor the project so that it could be continued in future Galle Literary Festivals adding that they hope to expand the project by including more universities if possible. The Sunday Times was a media sponsor at GLF.