2011 is going to be a big year for Shehan Karunatilaka. One would think that Shehan would have a hard time topping 2010 – that was the year he married Eranga Tennekoon, known to her friends as ET. She designed the eye-catching cover of Chinaman's first edition, which literally flew off the shelves. "She used to be my Art Director and now she's my first reader and critic. She tries to be kind with her criticism and I try to accept it with grace. We don't always succeed," says Shehan.
And the year only had more change in store for him. "After finishing Chinaman in late '09, I did a very sensible and a very foolish thing. I decided to get a haircut and get a real job. Though I haven't quite got around to that haircut yet."
Another change has been his relocation to Singapore, where he works in advertising. "These days, instead of dreaming up a second novel, I come up with retail ideas to sell phones that are cameras. My ambition is to save up enough money to be an unemployed writer again."
Shehan describes getting the book published abroad as being akin to a numbers game. He spent several months posting queries to agents and publishers in cricket-playing countries - five every Friday – and received reactions that ranged from indifference to outright rejection. Then after a year, Random House India responded and then they passed it on to Jonathan Cape UK.
In a letter, Dan Franklin, the Publishing Director of Jonathan Cape says that he read Chinaman in 2011 and describes it as one of the most remarkable novels he has read in his 40 years as an editor. When he says that Chinaman might do for Sri Lankan writing what Midnight's Children did for the Indian novel, he's speaking as someone who has actually edited Rushdie himself (along with other literary rockstars like Ian McEwan, Audrey Niffeneger, Martin Amis, Mark Haddon, Roddy Doyle and Julian Barnes.)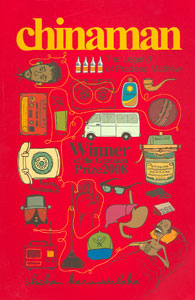 Shehan will be making an appearance at the Jaipur Literary Festival this year. After that he's off to London where Chinaman has been selected by Waterstones chain of bookstores for a major promotion. Dubbed the Waterstones 11, the group consists of 11 debut novelists who will be promoted heavily by the chain this year. In a candid press release, the store says that the campaign hopes to identify novels it believes will find their way onto the longlists and shortlists of the major awards of 2011 – including the Man Booker Prize.
In the meantime, Shehan's idea on encore is to be "a weird and exciting story that has nothing to do with cricket or drunks." It's research intensive, and all things considered, we might have to wait till 2020 rolls around before we get our paws on it. What follows are excerpts from an email interview with the author:
What difference, if any, did winning the Gratiaen Prize make to your own perception of yourself as a writer?
Awards, book sales and good reviews are dangerous things to tie your boat to. If you base your self-worth on these, you'll either end up really miserable or unbearably smug. The fact is a lot of crap win awards and a lot of masterpieces go unread.
In the end you judge yourself by how you make the story play. Everything else is just marketing and luck. The Gratiaen was fantastic and opened many doors for me. But my perception of my writing is based on what I can scribble down. Some days it's alright, some days it's pretty awful.
What sessions will you be participating in during the Jaipur Literary Festival? Have you been to any others since your visit to Galle?
I was due to join a panel discussion on South East Asian regional politics with writers from Afghanistan, Nepal and Pakistan. I was a bit nervous. I can barely keep up in a pub conversation. Even after a decade in advertising, I'm not very adept at bullshitting. And my knowledge of politics, current affairs and grown-up stuff is pretty sketchy. Luckily it got cancelled due to scheduling conflicts. So now I'm just going there to do a reading and chat about cricket and drunks. That I can do.
What do you most like and dread about literary festivals?
I dread having to do stuff in front of people and appear like I know what I'm talking about. The rest of it: the parties, the picnics, the sessions, the on-holiday feeling is all good.
Of the reactions from fans of the book, have there been any that particularly surprised or gratified you?
I'm surprised not to get more nitpicking from cricket fanatics. I left lots of in-jokes for cricket geeks, but I'm not sure I was 100% thorough with the stats. Some find the first part rambly, which it is. It's what happens when you get a drunk to narrate your story.
We shaved off 100 pages for the Indian edition, so hopefully that's taken care of. Overall the reviews have been kind; some have been quite generous. The most common reaction is to ask whether Pradeep was a real person. To which my standard answer is as follows. "Everything about Pradeep is true, apart from his name."
Sometime has passed since you completed Chinaman - what were the lessons you learnt about writing in the process of penning it? Do you think you might change your approach when writing a second novel?
I learned more lessons from writing an awful novel 10 years ago. The Painter was a supernatural noir thriller set in Colombo at the turn of the century. It took a year of my life and was an appalling piece of work. I guess you do learn more from your screw-ups.
With the Painter I didn't plot, didn't research, just sat down and typed whenever I felt like it. With Chinaman, I did the opposite. Worked daily, did my homework, came up with more ideas than I needed, rewrote lots. Can't see myself changing the approach for the next one. Maybe I'll take a few more naps in between chapters.
Waterstones believes that the books in the Waterstones 11 series are all destined for great things - the Man Booker Prize shortlist no less. As someone who still dreams about being able to write full time, do you think this might be the breakthrough you've been waiting for? Also, are you familiar with the work of any of the other authors on the list?
I'm ecstatic that the story has managed to travel outside of Colpetty. Wasn't sure it would. I thought it may export to India, but not much further after that. The Waterstones thing is certainly a break, whether it translates into anything will depend on if people read it and if they get into it. Those are pretty big ifs.
I leave for London tonight and have no idea what to expect.
I'm not even aware of the other authors on the list. I'm just happy to ride this wave as far as it'll take me. But my main job is to get back to the pit and start cranking out the next one. If I may commit the sad act of quoting myself - at the end of Chinaman, the narrator says, "Maybe everything will happen, or maybe nothing will." That kinda sums it up. Who knows.