Her family has lived here for five generations, and so for Mahrooza Lahir, life in the Galle Fort has its own particular cadence. Some things – the familiar narrow alleys that branch off at right angles, the small kopi kades where people gather, the imposing walls of the Fort itself – have barely changed, but in other ways the Fort is not the place it used to be. In just a week, the already popular Fort will become the crowded venue of the Galle Literary Festival 2011, its sleepy air disrupted by a flood of visitors from all over the world. As for Mrs. Lahir, who lives in a house down Leyn Baan Street, she will be hostess at a sold- out event – a cookery demonstration that will culminate in guests sampling delicious delicacies made à la Galle.
The event has no literary pretensions – but from the beginning GLF has offered a diversity of experience. From expeditions to see the whales, to walking tours of the Fort and an introduction to the local cuisine, it has always been as much about the destination. With just a week to go, the organisers are getting ready, the Hall de Galle is receiving a new layer of paint, and elsewhere the denizens of the Fort have begun preparing for the influx.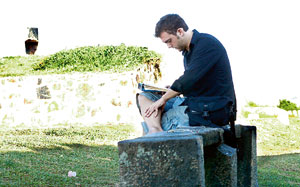 The place to be: The Galle Fort. Pix by Saman Kariyawasam
Mrs. Lahir says it's heartening to see the Fort this lively. Her friends and neighbours are doing up their rooms for rent, and she describes the atmosphere during GLF as akin to a "festival day" where people are out well into the night and streets bustle with activity.
S.J. Senadeera has been the custodian of the Dutch Reformed Church for ten years now, and he expects to see more than his fair share of visitors. The 368- year-old building he works in has played host to several classical performances by the likes of the Chamber Music Society of Colombo and can hold an audience of nearly 200 people, he tells us. This year, for the festival the church will host the De Lanerolle brothers performing arias from the great operas. Mr. Senadeera seems proud, not only of the church's fine acoustics but also of the fact that such "non-commercial" music draws in particularly discerning audiences.
Next door to the church is the Galle Library. Here S. Abeywickrema seems less than enamoured of the festival, taking great care to emphasise the library is not involved with the festival in any capacity. It seems a pity though, because he is glad that it has become such an event. Between the free sessions, the book buying and the discussions, Mr. Abeywickrema hopes that the festival will inspire a whole new generation of readers. However, later when we speak to some of the young people around, we realise that for them GLF is sometimes more about the people than it is about literature.
Shazin, Mrs. Lahir's 19-year-old son, looks forward to the festival each year. Along with six other friends, he has volunteered three years running, and both he and his parents agree that it is a great way for him to gain some valuable experience. He says the festival seems to have consistently improved and that watching the organizers at work has given him some insight into how something this complex runs. Though he confesses to not being much of a reader, Shazin says he enjoys the chance to meet and mingle with visitors. This year he's working at the box office, where tickets seem to be rapidly selling out.
His mother, Mrs. Lahir, is taking her own success at the box office in her stride - this is her second year with the festival. Joining her will be her aunt, Jeeneth Ismail, and the ladies of the Crescent Ladies Association. The distinctive Galle Buriyani and Lamprais served at Mrs. Lahir's house will help the association support widows trying to get back on their feet, they tell us. Mrs. Lahir's shop, a jewellery store which sells some of her original designs is just behind the house ("I have no commute," she says laughing) and she and her husband are likely to see a small increase in walk in business during the week.
| | |
| --- | --- |
| | |
| The Dutch Reformed Church a must see | Open doors: Mrs. Lahir at home in the fort |
Leaving Mrs. Lahir's house we find ourselves besieged alternately by children doing their P.T exercises and an abundance of bridal parties (we count over 10). Leaning over the railing of her balcony, Mrs. Lahir attributes the latter to it being a 'nekath' day, but the overall impression is one of a Fort filled to overflowing.
This should be good news for small shop owners like Muhriz Abdul Cader. He and his family run the Sunset Cafe, a stone's throw from the perimeter of the fort. They sell short eats and lunch packs that Mr. Cader's wife prepares, and he himself is chef in the evenings as he mans the large grill beside the shop.
Though he lived abroad for a period, Mr. Cader has returned home recently. His roots go deep - his family has lived in the Fort for three generations and their house is 300 years old. From this perspective, he declares that while GLF is generally a good thing, the Fort is not necessarily up to hosting large numbers of people.
The roads, he says, have been steadily deteriorating, even as simple things like lighting and maintenance of the lawns that border the walls have been neglected. He's not alone, guests at the festival have also often lamented the lack of proper facilities, but the stringent conservation laws that have kept the Fort's charming buildings intact also make renovations of any kind a painstaking process. In the end, this time, as in previous years, visitors are likely to find that the Fort has a personality of its own, one that GLF has embraced for better or for worse...but for those coming into this wonderful space, it must be admitted, it is more than worth it.
Activities all year long for Galle schools
While the Galle Literary Festival galvanises life in the Fort for a week in January, there are more activities that continue throughout the year, for students of the schools in Galle. Along with the AdoptSriLanka Twins programme, the Galle Literary Festival (GLF) holds several outreach programmes in the region, including debating tournaments, creative writing workshops, art exhibitions, training and developments for teachers and storytelling sessions.
In 2010, the programme was designed to involve more students, cultivate creativity and encourage students to express themselves in English. Two rounds of creative writing workshops were held, one in July and the other in September. Each workshop had a hundred or more students from 24 schools joining in, and facilitating the events were well known local academics and writers such as Neluka de Silva, Lal Medawattegedara and Vivimarie van der poorten, as well as Janaki Galappatti, Children's Program Coordinator for the GLF and Sunila Galappatti, Director of the GLF. Bringing the workshops to an end, a creative writing workshop was held on September 27, 2010 with the winner being given the opportunity to read their story at the GLF next week.
Taking the students out of their classroom, a few more fun and educational activities were held on the final day of the GLF last year -a treasure hunt around the Galle Fort, sing-a-longs and writing exercises to name a few. So successful were they, the activities will be held this year as well.
Another addition this year, is the Story Telling sessions in schools. Apart from well known writers and volunteers sharing stories in schools in the Southern province, they have also conducted drama activities for students.
School groups also get free passes to the GLF to attend selected sessions by well known writers and academics.
Constantly evolving and improving, the outreach programme has reached schools outside of Galle as well. Together with AdoptSriLanka TWINS programme, the GLF is looking to enrich generations to come by inciting their creativity and interest in the English Language.
Free events
From dance performances to panel discussions, there are a diverse number of sessions you can attend for free at the Hall de Galle and the Maritime Museum.
Thursday January 27
BBC World Service: The Forum: After Shock: The Lingering Legacy of the Civil War
9:30 a.m - 11a.m - Hall De Galle
Sunila Abeyesekere talks about how displacement continues to affect the Sri Lankan psyche almost two years after the end of the civil war; Chimamanda Ngozi Adichie explores the lasting effects of Nigeria's 1960s civil war through some of her stories in The Thing Around Your Neck; Anjali Watson looks at the dangers post war resettlement poses for humans but also for animals, and argues that the war in Sri Lanka actually benefitted the wildlife. Moderator: Bridget Kendall.
Sinniah Maunaguru on Ravanesan
12:30 p.m - 2 p.m-Thomas Gall International School
Maunaguru and his drama troupe from the Eastern University, Batticaloa, present excerpts from a Tamil folk play Ravanesan. It is performed in the Koorthu tradition—a form of folk theatre particular to the Eastern Province, which combines folk tunes and vigorous dancing to convey its narrative. Moderator: Sunila Abeyesekera. Sponsored by The Royal Norwegian Embassy
*Spotlight on Malaysia.* Farish Noor on The Other
Malaysia
5:15 p.m - 6:30 p.m- Fort Printers
Farish Noor talks about the possibilities and problems involved in creating a multi-ethnic society and shows how the conflicts from the past are still very present in the Malaysia of today. He also unearths the forgotten and marginalised aspects of Malaysian history.
PSV Natyasangham
Kathakali.
7 p.m - 8 p.m, Halle De Galle
Using this unique form of classical theatre from Kerala, the troupe performs an excerpt from the story, Nalacharitham. It tells of the unlimited love between Nala and Damayanthi. The performance presents their honeymoon. Sponsored by the Indian High Commission.
Friday January 28
BBC World Service: The Forum: love, marriage and
divorce — Eastern style
9:30 a.m - 11a.m, Hall De Galle
Ranjini Obeyesekere looks at the Buddha's marriage through his wife, Yasodhara and talks about the development of this iconic woman over time in Yasodhara, the Wife of the Bodhisattva; Sharya Scharenguivel explores the nuances of family law and attitudes in Sri Lanka and the surprising fact that women fare better under traditional than Western law. Moderator: Bridget Kendall.
Vannam
12:30 p.m - 2 p.m, Thomas Gall International School
Sudesh Mantillake and The Amugunama Madyama Lanka School of Dance talk about and perform a traditional Kandyan dance form known as Vannam, which originated in the shaman dances of Kerala. Vannam, like jazz, is partially improvised, creating an off-the cuff vitality to the performance. Moderator: Sunila Abeyesekera. Sponsored by The Royal Norwegian Embassy.
Juliet Coombe on The Art of the Travel Guide and Getting Published -
5:15 p.m - 6:30 p.m. - Serendipity Arts Cafe.
Coombe, publisher and owner of Sri Serendipity Publishing, has produced over 30 travel related books. In this exciting talk on guide book writing, she will go through the highs and lows of putting a book together and let you in on a few trade secrets. Her talk will also touch on the trials and joys of running her publishing house.
Iliya Troyanov on Along the Ganges and From Mumbai to Mecca
5:30 p.m - 7:30 p.m, Closenberg Hotel
In these travelogues, Troyanov makes two spiritual journeys. His first voyage is along the Ganges through great cities and Hindu festivals. In his second travelogue, Troyanov describes his pilgrimage to Mecca. Moderator: Ashok Ferrey. Mr. Troyanov is sponsored by The Goethe Institute. Note: This event is preceded by cocktails. There will be an informal barbeque afterwards at Rs.2,000 per person. Limited seating. Bookings: Closenberg Hotel (091 2224313).
Dance Performance - 7 p.m - 8 p.m, Law Court Square
The Amugunama Madyama Lanka School of Dance perform a traditional Kandyan dance form known as Vannam, which incorporates singing and dancing. The dances take their inspiration from the movements of various animals, or are inspired by history, legend, folklore, art and religion. Choreographed by Sudesh Mantillake. Sponsored by The Royal Norwegian Embassy.
Saturday January 29
Reba Som on Rabindranath Tagore, the Singer and his Song
12:30 p.m. - 2 p.m.- Thomas Galle International School
Som discusses her book on Tagore and then treats the audience to a few Rabindra Sangeet. This form of music, composed by Tagore, added a new dimension to music in India and created an emotional mirror for the social currents of Tagore's time. Moderator: Sunila Abeyesekera.
Liyanage Amarakeerthi and Ranjini Obeysekere on The Translator and the Translated
5:15 p.m. - 6:30 p.m-, Ambassadors
In this illuminating discussion, the two panellist talk about the challenges and joys of translating from Sinhala to English and vice versa, and how it feels reading your work in another language. They also talk about the bridge-building role of translation in current Sri Lanka.
Stories at Sunset
5:30 p.m. - 7:30 p.m., Closenberg Hotel
Watch the sun go down and immerse yourself in the best of Sri Lankan literature, dance and performance art: Be Wild, an improvised performance, Insexctual, a short film, and readings from writers Ramya Chamalie Jirasinghe, Ameena Hussein, Brandon Ingram, Sharmila Kantha, Karen Roberts and many others. Moderator: Ashok Ferrey.
Note: Following the event, there will be a Sri Lankan buffet of southern country cooking from 7.30-9.30. Limited seating. Bookings: Closenberg Hotel (091 2224313).
Fringe Festival:
Galle Art Trail: Watercolours and Alphabets ((Mamas, 76 Leyn Baan Street)
Exhibition of watercolours by Lynda Gill, and the launch of illustrated Sinhala and Tamil alphabets by Lynda Gill and Michael Meyler.
Drop in any time during the festival.
Script (Amangalla Hotel): An exhibition of art work inspired by contemporary poetry and writings. This exhibition, presented by the Saskia Fernando Gallery, will consist of paintings, drawings and sculpture by several of Sri Lanka's foremost contemporary artists. Script, in the visual and the conceptual features of these works, brings them together to provide a summary of the literature and writings that influence the local art scene.
Drop in anytime during the festival.
Sacred Spaces by Dominic Sansoni (The Sun House): Photographer Dominic Sansoni takes viewers to places with history and a sense of mystery. Places of quiet, places where people might reflect for a moment, and step away from daily chaos. In this exhibition, Sansoni also explores his unending fascination with roadside Ganesh shrines, which he has been photographing for many years.
Drop in anytime during the festival.
Vintage Posters of Ceylon: Exhibition and Book Launch. (The Fort GALLEry, 3, Lighthouse Street): Anura Saparamadu started collecting vintage posters of Ceylon about five years ago and soon had a collection of about 200. The book he has edited contains about 335 posters, mostly from his collection but also from several museums. It contains the stories of Sri Lankan artists who have made significant contributions in the field of poster art in Sri Lanka and work by international artists who have designed posters for various Ceylonese institutions.
Launch: January 29, at 6 p.m.
Readings and book launches:
Lifting the Veil of Consciousness by Laurel Botsford. Friday, January 28, 9.30 a.m.-10.30 p.m. (Pedlar's Inn Cafe) Laurel will present her channelled book, with occasional writings by herself, that discusses how the new concept of consciousness can be understood and how it can be used to change human reality as a whole, and your individualized own reality.
Gardens of Taprobane: Saturday, January 29, 5:15 p.m.-6:16 p.m. (Lit Fest Cafe).
This nostalgic and romantic book was originally edited from the diaries of Count de Mauny, who found his tropical nirvana on the Island of Taprobane in Weligama. Published in the 1930s, it has been reprinted in a stunning new format and will delight any fan of Ceylon as it once was.
Performances and presentations:
Saturday January 29: Throughout the day. (Maritime Museum, downstairs).
The "Majestic" Plastic Bag: A four minute film narrated by Jeremy Irons captures the journey of a lone plastic bag from its urban origins to the Great Pacific Garbage Patch. This will be followed by a 10 minute power point presentation on the effect of the ubiquitous plastic bag in Sri Lanka which pollutes beaches, kills animals and spreads disease. Learn how you can, with one simple step, become a part of the solution to preventing this.
Tickets and passes
Haven't got your tickets? Here's how
Individual Event Passes ( Rs. 1000-): These tickets may be purchased for any individual event within the programme.
Day Passes (Rs. 3,500- per day): A Day Pass may be purchased for a specific day of the Festival and gives you entry to all main events*. This ticket does not cover Tours, Workshops or Gourmet Events.
4-Day Festival Pass (Rs 10,000-): A 4-Day Festival Pass will give you to entry to all main events* in the Festival programme, over the four days of the festival. This ticket does not cover Tours, Workshops or Gourmet Events.
Student Passes (Rs.200- per event): Students include those under 21 showing proof of age, or those with a valid student ID card. Student tickets will only be available from the Box Offices in Colombo and Galle.
Children's Programme (Rs. 2,000 per day, inclusive of transport and food): The dedicated children's programme for 5 -14 year olds is ticketed by day and age group (5-7, 8-11, 12-14). As numbers are limited, please book early to avoid disappointment.
Galle Box Office: Mama's Rooftop Cafe, 76 Leyn Baan Street, Galle Fort. 10 a.m. 12 and 2 p.m.-5 p.m., Monday - Saturday
Colombo Box Office: Barefoot, 704 Galle Road, Colombo 3, 10 a.m.-5 p.m., Monday-Friday, 10 a.m.-2 p.m, Saturday.
Festival Box Office: During the Festival, from Thursday, January 27, there will be just one Festival Box Office located adjacent to the Hall de Galle, the main festival venue.
For more information, email info@galleliteraryfestival.com or call: +94 (0) 779 405 885.