Sri Rama Kottegoda was in his time Dean of the Faculty of Medicine, Colombo, Professor of Pharmacology, a botanist, and a very eminent photographer. In 1979 he was General President of the Sri Lanka Association for the Advancement of Science. He had an interest in matters pertaining to ethics and participated in committees and had publications in this field. He knew a great deal about Sri Lanka- and contributed to the Travellers Guide.
Over the years he won with regularity every photography prize that was available. His photographic essay- the Flowers of Sri Lanka – remains the classic in the field. He was also a cricket fanatic- and in the pre mobile phone era found a way- ethically- to keep track of scores of important matches even during the most rigorous of working days and during lectures. Had Sri Lanka a calligraphy prize- no doubt he might have won that- his writing was said to be beautiful too.
All this must not detract from the fact that he was an excellent human being- endowed with rare qualities of humour, ethics and affection.
Using Prof Kottegoda's love of and prowess in photography and other aspects of his life as background- the discussion will see if taking pictures accurately, and the presentation of information can be true and also false- a pseudo-authenticity misleading viewers and readers. Does this happen now in diverse spheres of Sri Lankan and international life? Is it an ethical issue?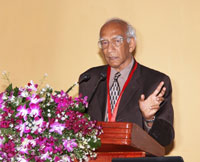 Prof. Aluwihare delivering the lecture and below, the late Prof. Kottegoda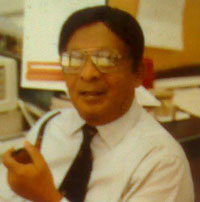 Ethics is necessary in the matter of proper systems by which people keep order and govern themselves- Politics- at least that is what Aristotle wrote. Ethics arises out of a complex mix of common sense and self evident truth, morality, what is known as general opinion, conscience, and religion. Therefore it is appropriate to look at aspects of Kotte's life that impact on contemporary ethics, and ethical conduct of people like us (ordinary people), academics, doctors and professionals, and politicians- which aspects can be used to challenge current behaviour.
Prof. Kottegoda was Dean of the Faculty of Medicine Colombo for 12 years and was awarded an Honorary FFARCS by the Royal College of Surgeons in 1974 and an Honorary DSc by the University of Colombo on 1985. He was so distinguished but 'unflappable' and his humour made him an enjoyable social speaker.
Photography to him was art. He did much of his work with a Rangefinder camera- with expertise in available light pictures- developing his own material at 22 degrees C or seeing this was done (with ice in the water bath), and dust was kept out,- allowing large enlargement as grain was minimal. Single lens reflex was just coming in. In short his photographic brilliance and thoroughness, and academic excellence were on a par with each other.
But here also he was willing to help the unknown with humility. My sister and brother- in-law first experienced his kindness as students (incidentally he photographed their wedding including action pictures of the painful difficulty of placing rings). This included mentoring my brother-in- law in photography and allowing him dark room access, and in the art of masking images by hand and cardboard shapes in the pre-digital and monochrome era. Advice was readily available.
The expertise in Botany and Photography produced 'Flowers of Sri Lanka'. The book on flowers has many very attractive pictures. Many of them have additional information - one of which reminds of the matter of strength in unity, and the many things that are then possible, and of the importance of factual reporting without distortion. His pictures also remind us of the importance of accurate portrayal and presentation leaving the viewer to assign weightage and interpretation.
The Sigiriya girls with whom all of you are familiar; are they dressed in filmy material above the waist or not? If a flower or event has a complex name (such as scorpion orchid) is portrayal distorted if part of it is omitted? Is the appearance of a 5 amp plug too well known for discussion - making deception easy if it happens to be at right angles to the usual in a wall?
I suggest and argue that the media has first an ethical duty to present factual accounts, only 'editing' to present the truth as it would appear to a witness able to see the event in the round. Once this is done then comment, even biased comment, is permissible. Does this statement contradict the principle of free speech and the press- notable ensconced in the First Amendment to the Constitution of the United States of America? No- there are certain restrictions even there (e.g. libel, slander, child pornography to name a few) - and on a common sense basis freedom of speech does not equate with licence to say anything that comes to mind.
There are examples of media reportage that cause us problems. In that the versions we read are so varied depending on the slant or affiliation of the media organ concerned that to get the truth is very difficult.
What actually happened recently at the Library in Jaffna- was there vandalism? Was it mindless and directed against the careless use of authority but those who did not respect library use for a function? Was it racially motivated? Was the whole alleged episode an invention by anti Sri Lankan media?
Was a Samurdhi officer tied to a tree of his own volition or by or at the instigation of a Deputy Minister? If this happened was it a criminal offence and thus not requiring a complaint for the Police to act? Whoever instigated this seems to have no lasting punishment (neither Deputy Minister nor Samurdhi Officer)
A Sri Lankan maid from Saudi Arabia had pieces of metal removed from her body. Did she put them there in Saudi or here? Did her employer do this? The same discussion will no doubt arise with respect to the maid more recently back from Kuwait
Many of these issues are mentioned and not followed up. However it is a duty and a pleasure to mention that there are in this country several examples of investigative and accurate journalism where issues are followed- about Rizana, pharmaceuticals- to name two.
If we cannot get an accurate picture or portrayal of events which includes the good and bad, we cannot form an opinion and thus cannot think how to improve any situation.Advertising can also be as deceptive as media reporting can be- and sometimes depends on its ability to mislead by innuendo (Hollywood films with cigarettes dangling out of the hero's or heroine's lips!). Most food advertising (directly or by sponsorship) does not mention ill effects (e.g the coloured Colas). It took years and many deaths for tobacco to stop knowingly misleading the public and start sorting out its image. What about pressurized and inducement laden marketing of pharmaceuticals? It is a pity we have no record of Kotte's feelings on the ethics of advertisers.
With this in mind I go to another and more serious example. The versions of what happened in the last stages of the fight against the LTTE in the Vanni. How many civilians were there in the last enclaves and NOT killed? How many were? Was escape prevented and if so by whom? The comment then is -How many deliberately or by accident? How inevitable was some of this in war?
There were so many written, visual and auditory versions that even now to unscramble them is difficult. Surely it is in the interests of long term reconciliation and peace to get the truth with its root causes and face it with courage. That is what the South African Commission was about, and our Lessons Learnt and Reconciliation Commission to be ethical must treat as matter of prime importance.
History has been written and rewritten, about the history of Europe, the Americas, the last world war, the holocaust, the movement of peoples within Sri Lanka over the last 3000 years- to give a few examples- changing events and people around to suit various agenda; some of this is taught in schools- to be unlearnt generations later after much bloodshed and anguish for all concerned.
Currently on the international scene- familiar though we are with the matter of double standards especially with respect to the powerful- what about the truth and ethics in Israel Palestine matters (power brokers, acts against international law, rights abuses), the status of indigenous populations in the developed world, third world and our rich/ poor, nourished/ malnourished, literate/ functionally or mathematically illiterate gaps? The proliferation of media channels- CNN, BBC, Al Jazeera, the Venezuelan one, and now Xinhua who have just got a huge building in Times square in New York- all point to the prevalence of the habit of selective reporting of news (legitimate at times), and may be selective distortion (not ethical).
How much editing or masking can we tolerate from the media, each other, politicians- in portrayal and presentation? Anything is possible in pictures and in oral and written presentation? A very recent debate about the correctness of the flower pictured as the National flower is an example of how silence created dilemmas. What are we supposed to do? We can choose to remain quiet even if we see the deceptions or be articulate in whatever way we feel best for the country, and us and our families (including future generations). If we think untrammelled distortion is unethical, then it is unethical not to make some attempt to correct it.
As perhaps Kotte would have done- make the picture convey the actual situation as an eye witness would have seen- enhance but not distort beauty or whatever subject matter of a portrayal. This is the ethical challenge posed to us today by the example of Kotte's life and his work particularly in the medium of photography.