They have taken wing once again to Chennai in India. This time the Bubble Baby of Sri Lanka is accompanied by his mother and grandmother, so that his father may continue his mattress business to keep the home fires burning for their return.
Baby Sanjana Praveen Shivanka, now six months old left for Chennai's Apollo Speciality Hospital with mother K.B.N. Damayanthi and grandmother K.A. Alice Nona for the second regimen of treatment for Severe Combined Immunodeficiency Syndrome (SCID).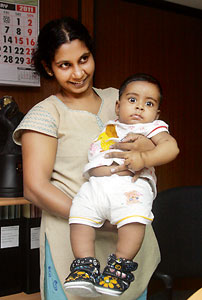 Shivanka when he was brought to Colombo on January 12 for a check up and to see the doctors at the Human Genetics Unit of the Colombo Medical Faculty.
Pix by J. Weerasekera
Once again Shivanka goes with the hopes and prayers of Sri Lanka, for it was the huge outpouring of support from people across the country that helped swell the Sunday Times fund for him enabling him to seek treatment, unavailable here.
His mother, Damayanthi, and father K.W. Neil Anura Shantha of Dippitigala, Lellopitiya, Ratnapura, had already experienced the agony and grief of losing his two elder siblings in their infancy to the same disease, by the time he was born.
Shivanka was in his mother's womb when the doctors of the Human Genetics Unit of the Colombo Medical Faculty, having tested and found that he too was suffering from SCID, discussed the option of seeking treatment in Chennai with the parents. Therefore they requested the Sunday Times to take up his cause.
That's what the Sunday Times did, resulting in an overwhelming outpouring of support by Sri Lankans both here and abroad who sent in a collection of Rs. 5.2 million.
Shivanka was then taken to Apollo Hospital for the first treatment regimen on September 4, 2010, returning to Sri Lanka on December 9. "Soon after, many were the calls enquiring after Shivanka's health," said Damayanthi with emotion. "So many people care about his welfare and we are strengthened."