BMS picks the second intake for Degree in Biomedical Science with the pathway to a Medical Degree. In search of new professions for young students who have dreamt of being a professional Medical Doctor, and missed it for some reason, it is important that new professions are introduced in Sri Lanka.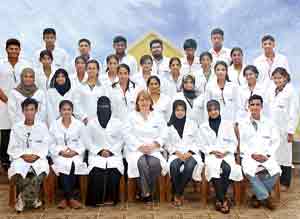 First batch of Biomedical Science students at BMS, Colombo with Julie Edgar, Associate Dean, Northumbria University, UK.
To anybody interested in science and practical application, particularly in healthcare or related research or to open up the pathway leading to Doctor of Medicine (MD) from a recognised university around the globe, a degree in Biomedical Science comes to mind. In Biomedical programmes, the student will study life processes (structure and function of the human body) to gain an understanding of health and the methods for diagnosing, analysing and treating diseases. Subjects covered in Biomedical Science Degree programmes are broadly similar to the pre-clinical components of a medical degree (Anatomy, Medical Biochemistry, Physiology, Cell Biology, Pharmacology, etc) with the addition of Molecular Biology, Statistics, Information Technology, the Screening and Evaluation of New Drugs and Laboratory Managements.
Presenting, Medical Degree pathway with Biomedical Science in Colombo, Northumbria University Head of Student Recruitment, Mr. Neil Slater said this is one of the highly recognised pathways with facilities of clinical practice in UK or USA. The students who have studied Medicine through this pathway are currently practising in more than 86 countries. The programme facilitates students to commence studies in Sri Lanka and complete the Biomedicine Degree in the UK and they can continue the Medical Degree at St. George's University, Grenada.
BMS will also introduce Degrees in Biotechnology and Applied Chemistry in this year giving opportunities for Sri Lankan students to complete Science Degrees in different areas.