What is ICAN? The whole island is agog wondering about ICAN!! What is this mystery organization arriving in Sri Lanka? What are they going to be doing? Why are they here? Will it benefit our country? Will it benefit the world?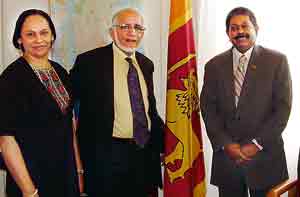 However, all of us will have to be patient until next week to find out more about ICAN. Meanwhile, we challenge you to find them before they reveal themselves. Or…simply read the full details in next week's paper right here in this section. Here are some hints to help you find out more about ICAN:
ICAN is about education and training. ICAN empowers women. ICAN helps university graduates. ICAN graduates will find well-paying jobs. ICAN graduates may earn more than 500,000SLR each month. ICAN graduates will have the opportunity to work overseas. ICAN graduates can work anywhere they choose. ICAN is endorsed by major figures in the government of Sri Lanka. ICAN's first campus will be known as "Shiranthi Wickramasinghe Rajapaksa" campus. ICAN is supported by many world leaders.
ICAN has a website that starts with www. ICAN is a social project. ICAN will help Sri Lanka's development. ICAN will increase remittances and improve Sri Lanka's balance of trade. The I in ICAN stands for International.
ICAN students can defer payments until after they start earning. ICAN students don't have to pay anything if after they finish they earn less than about 100,000SLR per month. One of the founders of ICAN is a native Sri Lankan. The founders are pictured here with Jaliya Wickramasuriya, Ambassador of Sri Lanka to USA. ICAN will train unemployed/underemployed university-graduated women in an accelerated programme in Sri Lanka. ICAN graduates will remit money to their families and communities resulting in valuable foreign exchange for Sri Lanka. ICAN's direct investments help boost the Sri Lankan economy and create jobs. ICAN's innovative tuition plan defers all tuition until after students graduate and start earning, allowing women from all economic strata to participate. ICAN students will not be a burden on their parents or families. ICAN tuition is scaled according to opportunity chosen, at 10% of earned income for 10 years.
ICAN tuition is waived if income is low in any year, encouraging the choice of social jobs and time off to raise families. ICAN will stress American cultural immersion and English language for its students. ICAN's accelerated programme is planned over two years in six consecutive trimesters with rolling admissions. ICAN's curriculum based on WHO and AACN standards has been approved by Sri Lankan authorities. ICAN has strong support from the Sri Lankan government and many institutions. ICAN students will be drawn primarily from university-graduated women in Sri Lanka as well as from USA and other countries. ICAN will collaborate on tailoring training specific to the needs of customers. ICAN's English-speaking, accent-trained graduates, productive on the first day of work, will benefit employers. ICAN is a play on words… you can, I can, we all can! Find out more about ICAN next week!!