According to the Coconut Research Institute in Sri Lanka, the coconut tree is perhaps the most valuable tree in the world. This magnificent tree grown in mostly tropical countries which mainly produces coconut is used in the production of 250 different useful consumers by products. However growing coconut trees as a mono crop is very uneconomical due to three main reasons:
There is a vital requirement of a specific land area per tree.
The requirement of an adequate moisture content of the soil.
Prevention of attacks from Insects and various diseases.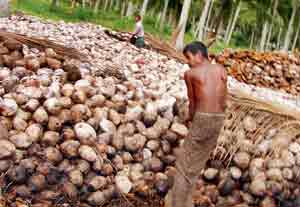 File photo- Workers husk coconut
I am a veteran coconut grower on 40 acres in Bathuluoya, close to Mundal, in the Puttalam District who would like to share my experience with new ideas with similar cultivators, who are interested in this field.
When the land area is taken into consideration currently one acre of coconut is priced at approximately around Rs 100,000. With the optimum conditions, each tree produces close to only six coconuts per month and the reject rate is 7 %. The average farm gate price is around Rs.18 per coconut. The gross profit generated by one tree per year is x12x18 = Rs 1205.28. Even this 4.6% profit cannot be generated if the rainfall is not even during the year.
According to available data from 2003 to 2010 crops have been affected owing to variations in rainfall and the depth of the water table. Last year, the rainfall received in November was more than the total rainfall that was received in the previous 10 months.
The data also shows how the rainfall and the depth of the ground water drastically affects the coconut crop. This is the main reason why we are facing a severe coconut shortage after the middle of 2010. In the same manner we can predict a much worse shortage of coconuts in 2011 .
The methods adopted to increase the profitability of the land should be:
Irrigate the coconut trees when the ground water level drops below 6 feet from the surface. This applies to sandy soil otherwise it should be done at about 5 feet. The application of irrigation also depends on the height of the trees, as taller trees need more energy to draw water up to the crown, and should be done before the water levels drop below 6 feet.
Grow intercrops in between the coconut plantation.
Utilize available land for animal husbandry. To carry out the above operations, we must have the following resources and the infrastructure facilities:
Resources - human resources; proper soil type, a land which does not have soil erosion or compacted soil; and availability of sufficient water
4Infrastructure facilities – electricity; irrigation systems; farm equipment and machinery
In modern day farming, availability of electricity plays a pivotal role. Without irrigation and human resources it is impossible to run a farm in order to generate a substantial profit. As agriculture is an outdoor operation, to retain the human resources it is necessary to pay a good wage and to provide living standards.
That is by having a fairly comfortable house with electricity, as nowadays it is difficult to retain them in mud huts with cadjan roofs using kerosene lamps in the night for lighting purposes.
To increase profitability, it is necessary to have electrically-operated coconut husking machines and small scale coconut oil expeller machines. The government should encourage, academic staff and students in universities to develop such machinery. Intercropping, A case study of cashew cultivation.
Way forward
Irrigation and intercropping could increase the profitability of the land. In this regard human resource, farm machinery, water and electricity are the key factors. Except electricity, other three resources could be obtained by the cultivator, but it is the government's obligation to supply electricity.
At a distance (from where my estate is) I can observe the high tension electrical cables leading from the Norochcholai coal powered electricity plant. Though the politicians boast that by the year 2012 the whole country would be supplied with electricity, so far no plans have been drawn towards supplying and distributing the required power in our areas. Supplying power to households give an indirect investment as they consume power, but giving power to these agricultural lands would no doubt enhance productivity which is very valuable and would be a direct investment, profitable to the country.
Of the three main agricultural exports, when the prices of tea and rubber rise, all politicians are happy and praise the relevant cultivators. In contrast in the case of coconut they always blame the cultivator. This is because a majority of these politicians are not versed and conversant with the subject of coconut cultivation allowing their henchmen who do not have the basic knowledge of coconut cultivations to import palm oil to control the local market price of coconut.
As facts are stubborn and very obvious, if the cultivators do not get the desired benefits, by the related authorities, the writer in the future firmly intends to cultivate cashew trees and other fruit bearing trees in the vacant spaces which will be created by dead and the unproductive coconut trees in order to cover losses, instead of considering replanting! (The writer is a coconut grower)
Coconut industry praises Govt. for subsidy offer
By Quintus Perera
The crisis facing coconut with prices going up is due to poor yields owing to less application of fertilizer, according to coconut growers. Quoting a Central Bank report, Anton N Fernando, President, Coconut Growers Association of Sri Lanka (CGASL) told Business Times that 25,000 tons of fertilizer in 2008 was used in coconut lands and in 2009 the quantity has dropped to a meagre 17,000 tons. Thus the 2008 crop of 2,909 million nuts dropped to 2762 million nuts in 2009, a drop of 147 million nuts.
This was indicated by Mr Fernando, subsequent to a press briefing on Friday held to thank the government for implementing a Coconut Fertilizer Subsidy scheme of issuing a bag of 50 kg at only Rs 1,000 which would cost around Rs 3,000 in the open market.
He said that their association has persistently urged the government to implement a fertilizer subsidy to avert the impending coconut crisis and said that it is good that the government has at last heeded their warnings to allow the subsidy.
Mr Fernando said that in 2006 growers applied 36,000 tons of fertilizer and thereafter it was a steep drop resulting in lower production. Unnlike other cash crops like tea and rubber, around 75% of the coconut production is used for domestic consumption and thereby the industry cannot benefit from international prices. He said that there are more or less one million acres under coconut cultivation and if they are properly fertilized, they could achieve a jumbo crop of 3500 million nuts. But he said that it would take a few years because the fertilizer effect would take around three to four years.
He urged coconut growers to make use of the fertilizer subsidy to the full and also said that the number of palms per acre should be more than 50 trees and only then could this be put to optimum use. Another way to address this issue Mr Fernando said is to grow coconut trees for individual family consumption in their own compounds. He said that the Coconut Research Institute has now introduced a dwarf coconut plant that could be grown in small spaces of land. He said that though he did not have exact statistics, growing dwarf coconut trees are getting popular.
He said that they are not in favour of importing coconut as they might bring in diseases and any other substitute as they would jeopardize the price of local coconuts.