Leasing experts Asia Commerce Limited (ACL) recently signed a Memorandum of Understanding (MoU) with Scienter Technologies (Pvt) Ltd to acquire the latter's new fully integrated software solution – Destinity eFinancials - to streamline ACL's operations, according to an ACL statement.
Speaking about the tie-up, the Director/CEO of ACL Lakshman Uduwara said, "According to our planned growth strategy we need to operate as a finance company and plan to open several branches in the near future. Therefore there was an urgent need for an integrated software solution that was not only reliable and user friendly but provided a better customer interface. We found in eFinancials a real package that would help achieve our business strategies."
Managing Director of Scienter Technologies Rajiva Witharana said, "Destinity eFinancials is a complete solution for finance companies which incorporates advanced features for Fixed Deposits, Loans, Leasing and Integrated Financials and is being widely used in several established financial institutions. The solution which is web based, has a heavily user friendly interface and supports unlimited users from multiple locations; thus enabling the organization to grow to any part of the country and still maintain its efficiency."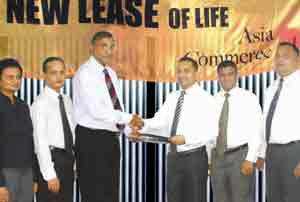 Picture shows Lakshman Uduwara, Director/CEO, Asia Commerce Limited (3rd from left) exchanging the MoU with Rajiva Witharana, Managing Director, Scienter Technologies. Also in the picture are (from left) -- Ms Upendra Goonetilleke, Manager Finance, Asia Commerce Limited; Ravindra Sumanadeera, Assistant Manager – Operations, Asia Commerce Limited; Dinith Galappatthi, Head of Development, Scienter Technologies and Theshantha D. Palliyagura, Director, Scienter Technologies.