The Japan International Cooperation Agency (JICA) handed over emergency relief supplies such as tents and sleeping mats, worth some Rs 26 million (20 million Japanese Yen), to the Minister of Disaster Management, Mahinda Amaraweera this week for displaced communities in districts worst affected by the recent floods.
JICA's assistance to these communities follows a request made by the Sri Lankan Government and is funded under its Disaster Relief Program. Under this program JICA has dispatched Japanese disaster relief teams and provided emergency relief supplies, mainly to developing countries, during major disasters since the 1970s, the organisation said in a press release.
"With this initial support to communities affected by recent floods JICA hopes to contribute to the swift implementation of relief operations at the disaster sites," said Takuya Otsuka, Senior Representative, JICA Sri Lanka.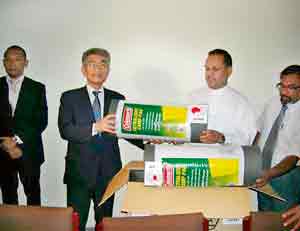 Picture shows Kunio Takahashi, Ambassador of Japan and Takuya Otsuka, Senior Representative, JICA Sri Lanka hand over emergency relief supplies to Minister of Disaster Management Mahinda Amaraweera