After a certain degree of deliberation, the World Cup preliminary composition of thirty players was announced and the modus operandi duly explained by the Lankan team selectors to the inquisitive local media.
The job at hand is huge and it is an unenviable task. But have they got every shoulder on the ramp so that the task could be accomplished with team spirit? A conspicuous absentee at the media show was a member of the playing team or any one from the team management. It was announced that Coach Trevor Bayliss would take his seat next to the chairman of selectors, but it did not happen so.
The scribes thronged at the venue were waiting to ask the team management about their views on the thirty-member squad and its composition, but it did not materialize. In all honesty, we hope that this composition will not lead to a situation similar to the one that prevailed during the 1999 World Cup selection. We say it here because that exercise ended up in disaster.
Recalling the 1999 World Cup fiasco at Tuesday's media conference, Chief Selector Aravinda de Silva said: "We went with three seamers in Chaminda Vaas, Pramodya Wickremasinghe and Eric Upashantha. In our match against South Africa they were struggling at 5 for 69 with Chaminda Vaas taking three wickets and Pramodya Wickremasinghe two. We bowled on the two pacemen, but thereafter with the April chill in England, South Africa went on to make 199 and win the match. In that line up the selectors had given us three fast bowlers and six spinners to face a World Cup in the early English summer where the ball keeps moving in heavy weather".
In this thirty-player squad, the selectors have included eleven batsmen: T.M Dilshan, Upul Tharanga, Dinesh Chandimal, Tharanga Paranavithana, Lahiru Thirimanne, Sanath Jayasuriya, Mahela Jayawardena, Thilan Samaraweera, Kumar Sangakkara, Thilina Kandamby and Chamara Silva. In addition, there are one batting all rounder in Angelo Mathews and three bowling all rounders in Tissara Perera, Farveez, Maharoof and Jeewan Mendis.
Definitely up there the going is tough. Of these batsmen, the almost sure candidates could be – skipper Kumar Sangakkara, his deputy Mahela Jayawardena, T.M. Dilshan and Upul Tharanga. The others will have to vie for their places.
Among the all rounders, it is only Angelo Mathews who has already booked his seat in the team bus while Tissara Perera is not far behind. Yet again only fifteen can find their way into the final list. Yet can we go back again and scrutinize the batting-in order and what may have been crossing the selectors' minds and what the cricket followers think of it?
At the top, take the two general openers, Upul Tharanga and T.M. Dilshan, of whom the latter is the more established. However in fairness to Tharanga, the selectors have persisted with him and he has somewhat delivered.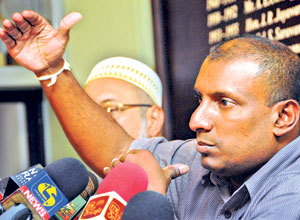 Chairman SLC selection committee Aravinda de Silva trying to make things clear to the local media. (Pic Sanka Vidanagama)
Here is a breakdown of Tharanga's last ten ODI innings, Tharanga made 38 while Dilshan was out for 24. They contributed to an opening stand of 38 runs. In the next match, he made 16 while Dilshan was out for 0 with the first wicket stand being just 5 runs. Both these games were against India. He then made 70 while Dilshan made 5 with the first wicket falling at 11. He then had a first ball duck against India and made 12 in a stand of 56 against New Zealand where Dilshan made 44. Tharanga then made 12 not out and in the finals against India made 6 batting at No 3 while Dilshan, opening the innings went on to plunder a 110.
In Australia Tharanga was one of the main factors in doing the impossible – beating Australia on their home soil. After getting three runs in the first game where Angelo-Malinga magic prevailed Tharanga made 86 not out in the second game and let the others bat around him in a rain-hit game, which Sri Lanka won on the Duckworth-Lewis system. Then even in the game that Sri Lankans crashed in Brisbane, Tharanga made 28.
So one can say Tharanga's contributions have been consistent. Now let's have a glance at the other Tharanga --- Tharanga Paranavithana who is moulded as a Test batsman. He made two tons against the South Africans in an 'A' team ODI series and seems to have impressed Chief Selector Aravinda de Silva immensely. So the chances of Jayasuriya fitting as a fourth opener may be a huge luxury where only fifteen names are permitted.
In the middle slots skipper Sangakkara, his deputy Mahela Jayawardena, Thilan Samaraweera are almost certainties, but for the balance slot, Thilina Kandamby is the only proven match winner, but the other unproven two – Chamara Kapugedera and Chamara Silva are better fielders. But I suppose fielding is a rectifiable lapse in a cricketer at that level and for Kandamby it is not far too late to dive into the deep end of a pool and come out unscathed. A fielding Kandamby – what a boon for Sri Lanka cricket it would be?
Sri Lankans should consider themselves very lucky to have both Angelo Mathews and Tissara Perera as genuine all-rounders. So both are musts especially in a World Cup challenge so there is little room for another.
Out of the spinners, magical Muralitharan still prevails under any circumstance, but Randiv and Mendis are also off spinners, but one could never put the three bowlers in the same basket because they are different. So the only criterion will be their wicket taking ability. Left armer Rangana Herath has improved and will be in contention, but Farveez Maharoof, Jeevan Mendis and Malinga Bandara may end up as also-rans.
During their confab, the selectors went into raptures on the bowling speed of Dilhara Fernando who could deliver at 150+. Australian Brett Lee did the same in his initial stages, but was sprayed around the isle by the opposing batsmen for runs until he learned the secret of control and direction, but sadly after eight years of international cricket Dilhara doesn't appear to have learned what Lee did so quickly.
In the seam section the Lankans jump with a head start in Mathews and Perera. Into this if the selectors could add the experience of Vaas it would be a huge backing for spearhead Malinga who is one of the best in his art in the World at the moment. Skiddy Nuwan Kulasekera can be a contender, but does he possess the skills that Vass has is a good question to be answered.
The selectors also mentioned that if any inclusion threatens to bring disharmony into the dressing room they would dispense with it forthwith, but at the same time one must learn as much as the individuals it is also the national cause that matters. We should be there in February to win the World Cup yet again and not to have a smiling dressing room that could end up with a mediocre performance at the end of the day.
In 2007 if they had to sacrifice Atapattu to get to the final so be it, but, at the end of the day positive results is what matters.