Seventeen- year-old golfer Dhanika De Silva calmly stroked his way to a grand total of 223, on the final day of the Sri Lanka Junior Open Golf Championship, to clinch the overall winner's trophy at the Royal Colombo Golf Club.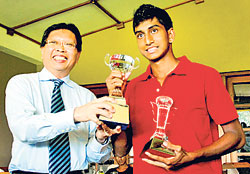 Overall Champion Dhanika De Silva being awarded his trophy. Pic by Sanka Vidanagama
The youngster, who was playing in the Gold Division, racked up his impressive tally with relative ease, leaving his closest challenger, Sachin De Silva, the winner of the Silver Division, lagging far behind with a total of 239. Meanwhile Dhanika's nearest rival in the Gold Division, Vishal Jayasekera, trailed with a final total of 261.
"It feels really good to have won it again," Dhanika, who has previously claimed the title in 2009, expressed. "It wasn't easy at all because there were a lot of great young golfers competing against me and during the opening day I only had a small lead so I had to focus really hard to gradually extend it."
Play during the tournament saw action in three different age divisions, Gold for those aged between 15 and 17, Silver for players ranging from 12 to 14 and Bronze for those 10 and under.
Apart from Dhanika and Sachin, the other division champion was Ishira Fernando, who snatched up the silverware for the Bronze Division.