Lionel Almeida is no more. The news spread like wild fire throughout Sri Lanka's rugby world. The affable rugby player, one time its president and golfer passed away last week and his funeral will take place today (Sunday December 19) at the General Cemetery from A.F. Raymond's Parlour at 4 pm for cremation.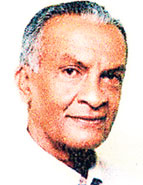 Lionel Almeida
An old Royalist, he captained his alma mater in 1956 and later turned out for the CR&FC. He was President of the Rugby Union from 1989 to 90 after Y.C. Chang. That same year the Rugby Asiad was held in Sri Lanka where Lionel Almeida worked round the clock to make the event a success, ironically Chang was the Chairman of the ARFU at that time.
Lionel played for All Ceylon under the leadership of Chang at the All India tournament held in Bombay (1968). Some members of the Ceylon team that played with Lionel were the late Kavan Rambukwella, C.V. Gunaratne, Mahes Rodrigo, Gamini Fernando, Mike de Alwis and Hubert Aloysius. He was a pioneer in the Pink Elephants team, a team that traveled all over the country to play and encourage the game.
Former SLRFU President Malik Samarawickrema called him a great man, adding "he was a great player and could fit into any position. He was a good referee, a good administrator and a fine gentleman."
He was also a live-wire at the Royal Colombo Golf Club and was responsible for staging many local and Asian competitions. Words of praise to Lionel also poured in from Jupana Jayawardena, S. Sivendran and other rugby stalwarts.
Piyal the grounds man at CR had a kind word for Lionel, calling him a caring man. May he Rest in Peace.