Farewell Baghdad depicts civilian deaths, suicide bombers. A movie depicting a nervous U.S. soldier accidentally shooting a little girl during a night raid on her home in Iraq might not be every American's idea of a possible Oscar winner.
The fact that it was written and directed by an Iranian makes "Farewell Baghdad", the gritty story of Americans in Iraq, even more controversial. Despite, or perhaps because of that, it is Iran's official entry for the 2011 Academy Awards, something its 37-year-old director says is the subject of "misunderstanding".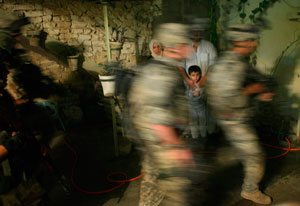 An Iraqi family watches U.S. soldiers after their house was searched during a night raid in Baquba early June 28, 2007
"There are people who think I have been paid a lot of money to make this movie for the Iranian government. It's clear to me that those people have not watched the film," Mehdi Naderi said. Far from being state propaganda, Naderi says his film, which explores the motivation and doubts of both U.S. soldiers and Iraqi insurgents, was made in the face of unhelpful pressure from the authorities and on a shoestring budget.
"The budget for Farewell Baghdad can be compared to what Sean Penn spends on his cigarettes or what Nicole Kidman spends for a small part of her make-up," he told Reuters in an interview in a Tehran coffee shop.
The movie follows Polish-American Daniel, a failed boxer who signs up to the army and finds himself on tense foot patrols in Iraq. After a comrade accidentally shoots a little girl in her home, both men leave their base and take off into the desert.
Daniel's life is eventually saved by Saleh, a would-be suicide bomber who hates Americans but reluctantly feels compelled to help another lost soul.
SOFT WAR
Given Iran's 30-year enmity with the United States, which is often referred to as the "Great Satan", a movie from here about Washington's long and painful engagement in neighbouring Iraq might be assumed to portray Americans as the villains, oppressing a fellow Muslim nation.
But Farewell Baghdad does not paint a simplistic picture of Americans as the bad guys. Daniel is shown as a regular guy struggling to come to terms with the violent, alien environment in which he finds himself.
"I don't want my film to be seen as a tool of soft war against the West," Naderi said, urging viewers to look beyond the politics and see the human story where both sides, Iraqis and Americans, can learn to be friends, even in extreme circumstances.
Filmmaking is a tricky business in Iran where the government keeps a close eye on political content and checks to ensure Islamic norms, such as women's dress code, are respected.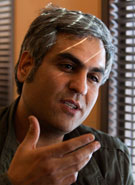 Iranian movie director Mehdi Naderi speaks with a Reuters correspondent during a
interview in Tehran
The state has increased its pressure on filmmakers sincelast year's disputed presidential election which was followed by the biggest street protests since the 1979 revolution which ushered in the world's first Islamic Republic.
"It took six years to get the permission to make this film and we changed the script about 18 times to satisfy officials," Naderi said. "I want to show how an Iranian filmmaker can make a movie without any financial support in less than two months from a country with lots of rules and censorships".
One Iranian movie industry official said Farewell Baghdad's "anti-American content" might help its chances of winning an Oscar.
"The Oscars set a new policy every year and usually other countries are not aware of these policies," Shafi Agha Mohammadian, head of a state body which promotes documentaries, said in an interview with Mardomsalari newspaper.
"We believe there is currently a policy of opposing the deployment of U.S. military forces around the world -- a sentiment also shared by Hollywood."
JAIL
Jafar Panahi, one of Iran's best known directors and winner of several international awards, is standing trial for making a film without government permission.
"My case is a perfect example of being punished before committing a crime. You are putting me on trial for making a film that, at the time of our arrest, was only 30 percent shot," he said in a statement to the court, which he released publicly.
Panahi's supporters believe his sympathies for President Mahmoud Ahmadinejad's election rival, opposition leader Mirhossein Mousavi, drew the ire of the hardline authorities. He was arrested in March and spent 88 days in jail, during which he went on hunger strike.
Panahi's case received wide international coverage after he was blocked from leaving Iran to attend the Venice film festival in September. U.S. director Steven Spielberg and French actress Juliette Binoche were among the movie luminaries who spoke up for him.
Naderi's film is unlikely to garner so much attention in Hollywood. Prior to Farewell Baghdad, another Iranian movie about Iraq, "Turtles can Fly" was entered as Iran's candidate for the 2004 Foreign Language Oscar. It focused on Kurdish victims of the Saddam Hussein regime and the U.S.-led invasion of Iraq. It was not shortlisted.
The Islamic Republic has entered more than a dozen films for the Oscars since 1994 when it first started participating, including Panahi's acclaimed "The White Balloon". But among all the entries, only "Children of Heaven" by Majid Majidi was nominated, in 1998.
"Farewell Baghdad" is one of 65 films entered for the award this year. Only five of them will receive an official nomination for the golden statuette.
But, with or without a prize, Naderi is proud to have completed his film which he says is a plea for peace, something sorely lacking in the Middle East.
"If Marco Polo were to begin his world tour in the present epoch, he would not have succeeded as he would probably be killed before arriving in Baghdad." - Reuters