LONDON, Dec 11 (AFP) - British police today defended their tactics after a student mob attacked a limousine carrying Prince Charles and his wife Camilla on Friday during the most violent protests yet against higher university fees.
The heir to the throne and Camilla looked shocked as rampaging demonstrators broke a window of their Rolls Royce and spattered the car with paint as the couple travelled to a theatre in London on Thursday.
The royal security breach came as thousands of angry youths clashed with riot police and tried to storm the finance ministry after the coalition government's narrow victory in a vote on the tuition fees.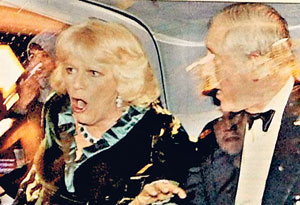 A picture carried in a British daily national newspaper showed the shocked royal couple when their vehicle was attacked. AFP
Clarence House, the couple's official residence, would not comment on newspaper reports that Camilla was hit in the ribs by a stick shoved through one of the car windows which was accidentally opened in the melee.
"But what we are saying is that both their royal highnesses were unharmed and neither received any medical attention," a spokesman told AFP.
Prime Minister David Cameron said he was "very concerned" by the security lapse -- which comes ahead of the wedding of Charles' son Prince William in April next year -- and said those who attacked the car must be punished.
"We want to learn the lessons from that but, above all, we want to make sure that the people who behaved in these appalling ways feel the full force of the law of the land," Cameron said.
Scotland Yard chief Sir Paul Stephenson said the royal couple's route had been thoroughly surveyed minutes before the attack, adding that armed royal protection officers had held back by not opening fire on protesters.
"I do think that the officers who were protecting their royal highnesses showed very real restraint, some of those officers were armed," he told BBC radio