It used to be Michelle Obama, but now women across America are looking to another fashion icon for inspiration -- Kate Middleton.
Ever since her engagement to Prince William last month, US media have delved into her wardrobe with magazines and newspapers printing pictures of the future British royal in a portfolio of outfits.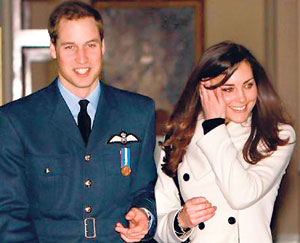 Kate's hair: 'Tremendously sexy'
In New York, where fashion is a necessity rather than an option, her feather hats, knee length dresses, and fitted tweed coats have already sparked interest. Ask locals to describe the Middleton look, and the words "beautiful", "elegant", and "sophisticated" are frequently among the responses.
But it's not just what she wears that is creating inspiration in this part of the world. Her hairstyle -- chocolate, wavy, tumbling -- is also starting to be emulated.
At Cutler Hair Salon on 57th Street, stylist Kelsy Osterman says dozens of women have been coming in and asking for a Kate Middleton cut.
"People get really inspired by all these big beautiful photos of her and I think the one thing they can try to obtain of that beautiful look is the hair," she said. "There could have been 20 women in a day that ask for it."
MacKenzie Doughtery, 24, already has deep brown hair, but wanted a cut that would mirror Ms Middleton's after the man she is dating told her that it was tremendously sexy.
"I love Kate Middleton's style appeal," she said. "She's going to be royalty which is exciting, and the hairstyle is user-friendly and good for a busy girl who's always on the run."
Twelve blocks south from Cutler Hair Salon is another business seeing a boom because of the bride-to-be. The Natural Sapphire Company operates on the 20th floor of an office building. A transparent bullet proof screen welcomes visitors as they enter.
It has the air of an office in overdrive, with staff scurrying around answering phones and typing away on computers. CEO Michael Arnstein said the Middleton-effect -- specifically demand for jewellery modelled on her sapphire engagement ring -- was leaving him exhausted.
"I've had four hours sleep," he said. "We're being pushed to the limits. We need more staff, we need more stones, more setters; we need more jewellers. It's fantastic but we just can't meet the demand. Kate Middleton has just created this massive market for us and it's overwhelming".
Ms Middleton's ring consists of a large sapphire surrounded by small diamonds, and once belonged to William's mother, Princess Diana. Prince William said he gave it to his fiancee because "it was right to put the two together".
Selling sapphires
The design seems to have been revived more than 25 years after the Princess of Wales wore it. A style that fashion-conscious women in Manhattan may have considered quite orthodox now seems to be experiencing a resurgence.
"This time of year before Christmas, we're usually selling anywhere from three to 10 rings a day and now we're selling 50 to 75 rings a day," Mr Arnstein said. "We've sold hundreds and hundreds of sapphires. Within hours of the engagement we were just inundated with orders."
The rings range in price from $1,000 (£635.80) to more than $100,000, depending on the size of the stone. As for Ms Doughtery, she has no plans to invest in a ring but she hopes her new hairstyle will bring her plenty of luck.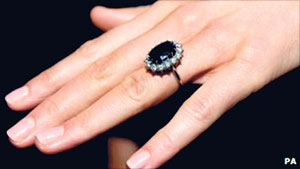 Middleton's engagement ring, once worn by Princess Diana, has also sparked interest
"Oh I love it, it looks amazing!" she cried. "Hopefully now I'll find my prince!" So will these Kate inspired trends last -- or are they a passing fancy of Americans ahead of the big day in April?
American Vogue's European Editor Hamish Bowles believes Ms Middleton could have an enduring impact in Manhattan, and beyond. "I think she's extremely elegant and that idea of being manicured and groomed and effectively pulled together actually resonates with New York women," he says.
"There is a classicism in her choices that projects fashion but not outrageously so. I think what's remarkable is that so early in the process she has found an identity of her own and that is something that will enhance her authenticity.
"This is someone we are going to be deeply compelled by for a long time to come."
Courtesy BBC News