CANCUN, Mexico, Dec 11 (Reuters) - Global climate talks made progress late on Friday toward a deal to slow global warming despite bitter objections by Bolivia to a widely-praised proposal to break a deadlock between the rich and the poor.
More than 100 environment ministers were expected to work through the night to try to end a row between developing countries and Russia, Canada and Japan, which do not want to extend the Kyoto Protocol that curbs emissions in rich countries until 2012.
Many developing nations as well as the European Union, Australia and the United States praised a draft drawn up by host country Mexico in the beach resort of Cancun on the final day of two-week talks. The proposed document refers to "a second commitment period" for Kyoto.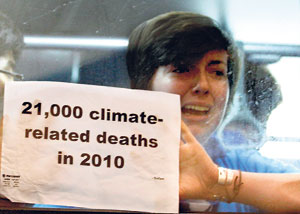 An activist shows a protest sign through the window of a police bus after she was arrested for demonstrating inside the venue of climate change talks, in Cancun on Friday. Reuters
"What we have now is a text that is not perfect but is certainly a good basis for moving forward," said U.S. climate envoy Todd Stern. "This is the best product of a collective exercise," Mexican Foreign Minister Patricia Espinosa told delegates. She won a two-minute standing ovation from delegates.
Any agreement on Kyoto could unlock a modest deal to set up a new "Green Climate Fund" to help the world's least developed countries and payments to protect tropical forests, and to share low carbon technologies. Negotiators' hope a deal will help slow floods, droughts, heat waves and rising sea levels.
But an agreement on Kyoto would need unanimous support, and Bolivia's objections could derail it.
"Bolivia is not prepared to sign a document which means an increase of the average temperature, which will put more people close to death," Bolivia's delegate Pablo Solon said.
Bolivia has the toughest demands of any nation at the talks. President Evo Morales told the meeting earlier this week that the climate policies of rich nations were causing "genocide." Countries backing the draft won applause while Bolivia's Solon was met by silence. Venezuela and Nicaragua, both allies of Bolivia's left-wing government, urged more consultations over its objections.
The U.N.-led talks are trying to rebuild trust between rich and poor nations after President Barack Obama and other leaders failed last year to agree a treaty at a summit in Copenhagen. Developing nations say rich countries, which have historically emitted most greenhouse gases, mainly by burning fossil fuels, must extend Kyoto to a second period before poorer countries sign up for curbs that would hurt their drive to grow their economies and tackle poverty.
Kyoto currently obliges almost 40 developed nations to cut emissions by an average of 5.2 percent below 1990 levels from 2008 to 2012. Japan, Russia and Canada have said they will not extend it and instead want a new, wider U.N. treaty in coming years that includes binding emissions targets for other countries, including China, the United States and India.
Developing nations insist that the rich must lead the way and first extend Kyoto. This year's talks have seen only sporadic protests but a scuffle broke out on Friday with a group of environmental activists outside a main conference hall.
Protesters held signs saying thousands were dying from climate change around the world, and security police struggled to push them onto a bus to clear the entrance of the hall.
The Copenhagen summit collapsed in acrimony, producing only a nonbinding accord to limit a rise in temperatures to below 2 degrees Celsius (3.6 F) above pre-industrial times.