New environment regulations on sand mining and transport of river sand have led hardware dealers to increase the price of the material. Meanwhile government's efforts to promote the use of sea sand as an alternative, does not seem to be bearing fruit as contractors are reluctant to use sea sand for construction purposes.
In a bid to dispose of the more than 800,000 metric tons of sea sand excavated from the Kirinda Harbour project, government is calling for international tenders to remove the stocks.
A senior official attached to the Kirinda Harbour said the sand stocked around the Harbour area was causing environmental problems and they were looking for a means to speedily dispose of the same.
He said the Maldives earlier purchased large quantities of sand, but due to difficulties faced by vessels approaching the harbour several orders had been cancelled.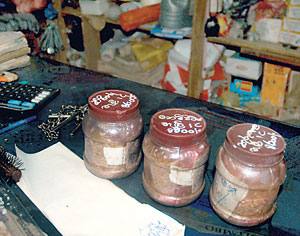 Samples of sand displayed at hardware stores. Pix by Ranjith Perera.
The official said a cube of sand sold at Rs. 800, but the demand was minimal as it was being used to produce only concrete blocks. He added on occasion a few persons mixed sea sand with river sand for construction purposes, but this was rare.
Most contractors were reluctant to use sea sand as it did not bind well and caused problems such as cracking in walls etc. Not surprisingly the demand for this material was negligible. Meanwhile a spokesman for the Geologicial Survey and Mines Bureau said a fresh circular had been issued imposing further restrictions on the transport and mining of river sand.
The spokesman added, special allowance would be made in the use of river sand for non-commercial purposes such and house construction. Permits for the issue of two cubes a month would be permitted he said.
In the event of a person requiring a greater quantity of sand, an appeal could be made to the AGA he added. For commercial purposes four cubes of sand could be transported at a time, he said. The fine on the illegal transport of river sand has been increased from Rs. 5,000 to Rs. 50,000.
Restrictions on the possession of sand at hardware stores have resulted in these stores now displaying only samples of sand at their outlets.