"Sirimavo was the first in a list which carries the names of other women Prime Ministers such as Indira Gandhi and Margaret Thatcher. Sirimavo is an internationally important figure for Sri Lanka", President Mahinda Rajapaksa said at the launching ceremony of the book 'Sirimavo'.
The book, which is a collection of articles about the late Mrs. Bandaranaike and speeches made by her and about her, was published by the Bandaranaike Museum Committee. "When everyone objected to my being given nomination in 1970, it was Madam Sirimavo who vehemently said that I should be allowed to give my nomination for the election", President Rajapaksa recollected.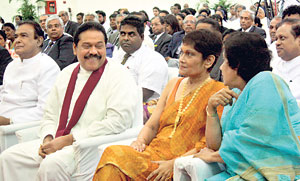 President Rajapaksa in conversation with Sunethra Bandaranaike and Chandrika Bandaranaike Kumaratunga. Pic by Nilan Maligaspe
He further said that Madam Sirimavo ruled during a difficult period with western forces threatening to impose economic sanctions but she faced them courageously and faced the consequences with the same courage.
"When the Land Reform Act was brought, she gave away her own property without a second thought," he said. Even today, he added, the international community remembers her and talks about her.
Former Vice Chancellor of the Colombo University, Professor of Law, Savithri Gunasekara said that Madam Sirimavo was always of the understanding that leaders don't get elected to power but to an office and it's the responsibility of the leader to fulfil the tasks assigned to that particular office.
"She was the mirror image of every woman who had suffered the loss of a close family member," she said adding that though she emerged immediately after the first political assassination in the country, she had her own share of violence and discrimination to face in the political field, due to her gender.
"But she was beautiful and feminine and independent about her rights", she said.
The editor of the book, US-Sri Lanka Fulbright Commission executive director Dr. Tissa Jayatilleke said that Madam Sirimavo could be called the best foreign minister Sri Lanka has had when one considers her outstanding achievements in foreign relations.