An average Sri Lankan family of four members requires a minimum Rs. 40,000 to get through the month. This is a statistic from the Cost of Living Index. A monthly income of Rs. 40,000, however, is not adequate to cover current daily living costs, which are rising by the day.
A comparison of food and vegetable prices for last year and this year reveals an increase of Rs. 50 and above per kilo for a number of consumer items. Vendors at the Pettah market told the Sunday Times that the average price for vegetables has gone up by at least Rs. 50 since December 2009.
The Pettah market this week sold a kilo of pumpkin, brinjal (aubergine), ladies' fingers (okra or bandakka) and snake gourd for Rs. 50; cabbage and ash plantain for around Rs. 100, and beans, carrots, drumsticks (murunga), bitter gourd and tomatoes at between Rs. 100 and Rs. 120. Green chillies cost between Rs. 180 and Rs. 200.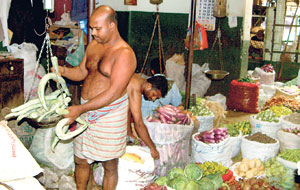 The bad weather has hit vendors hard: wholesale prices are up and customers are few. Pix by J. Weerasekara
Meanwhile, supermarkets and private vendors, which charge more than the usual market rates, are attracting more customers these days because on rainy days they are more accessible than the Pettah market.
The recent rains have added to the overheads. Compared with December 2009, foodstuffs this Christmas have significantly gone up in price.
Garlic, which cost between Rs. 100 and Rs. 150 a kilo last year, has gone up to Rs. 270 and Rs. 300 this month. Tamarind was Rs. 50 last December; this December a kilo costs Rs. 270. Pettah market vendors have been hit hard by both high wholesale prices and heavy daily rains. Customers are few and far between, they say. Vendor U. Abeyratne said farmers in the Puttalam area cannot bring their produce to the market because of the rains and floods.
"By the time the goods reach us, the prices have gone up because of the scarcity," he said.
Capsicum chillies top the list as the most expensive vegetable at Rs. 200 a kilo in the Pettah market and between Rs. 220 and Rs. 270 in the supermarkets. A coconut costs between Rs. 45 and Rs. 60 in the Pettah market.
Vendor Sujith Chandana said beans are among the most expensive vegetables, with the bulk coming from Balangoda. But with roads becoming impassable because of the bad weather, the price has shot up.
While vegetable prices are going up because of short supply, fruit prices have dropped because of poor demand. Vendors say a Rs. 250 pineapple cannot be sold for even Rs. 80 these days. Pettah market fruit vendor M. Jifry said he and his market colleagues have had hardly any business in the past week. When they call out to customers, the customers say, "How can we buy fruit when we cannot afford three meals a day?"
Woodapple vendor U. Wijeweera told the Sunday Times that customers will buy woodapple only when the price of sugar, a necessary accompaniment for the sharp-flavoured fruit pulp, is low. He said people these days are avoiding woodapple, which has not gone up in price.
Meanwhile, the continuing heavy rains have been bad for business. Pettah wholesale vendors and retailers have both been badly hit by the weather. "These days, the people are heading straight home after work, they don't come to the market," said wholesaler C. Samarasekara.
Farmers in the hill country warn that the cost of food prices could go up by 10 to 20 per cent this Christmas. They say they have had to spend large sums of money on chemicals to use on crops to prevent rotting and bacterial contamination as a result of the damp weather conditions. Carrots, which cost between Rs. 20 and Rs. 25 a kilo, have gone up to Rs. 35 and Rs. 40 because of the additional expense of chemicals.
Farmers say they have not been able to harvest crops because of the rains, and much of the harvest has been ruined, while stocks have been spoilt by the damp. As a result, the quantity of quality vegetables reaching the market has dropped drastically. "Because of the scarcity, people are buying good quality vegetables at any price," said vendor N. Kumara.
The rains have not helped potato and carrot crops, which need dry soil, and are half their usual size these days; and excess moisture has caused cabbages and leeks to rot.
Farmers are grumbling that the government helps the paddy farmer with generous fertiliser subsidies, but not the vegetable growers. They pointed out that the recent budget promised to increase the budget for paddy fertiliser from Rs. 21 billion to Rs. 28 billion next year.
While vegetable prices are spiralling out of control, rice prices have come under state control. Since midnight Thursday, sambha has come down to Rs.70 a kilo, and the maximum price for other varieties of rice is Rs. 60.
The high cost of living has consumers saying it would be cheaper to import vegetables and essential food items than buy the locally produced items.
Sugar, for example, is about Rs. 100 a kilo in the local market, while it can be imported from India for Rs. 85, and from Belgium for Rs. 70. In the month between October 31 and November 30, the cost of living (CoL) index showed an increase of 2.5 points, or Rs. 449.90.
CMC properties 'no-go zones' for reporters
It would appear that Colombo Municipal Council (CMC) premises are not open to reporters from the media who wish to talk to vendors.
When Sunday Times reporters approached vendors in the Pettah market, they were told they would have to get the Municipal Commissioner's permission to conduct interviews within the market premises.
While this was the first time that Sunday Times reporters had come up against such an obstacle, the Municipal Commissioner insisted the regulation had been in place for a long time, and that interviews with vendors may be conducted only in the presence of a vendor administrator appointed by the CMC.
If this regulation does exist, and it applies to all properties under the CMC, then news reporters will have to ascertain whether they need CMC permission in order to speak to members of the public in any public place, from highways to parks and promenades and cemeteries.