Karuwalagaswewa area in the North Western Province has been experiencing increased attacks by elephants. According to villagers from among the 15 Grama Niladhari divisions affected by elephant depredations, a herd of 20 elephants recently ravaged 75 acres of paddy fields, rendering farmers helpless.
Elephants chomping on food grains and cadju plants have become a common sight in the north central province's Medawachchiya area. Harrison Peiris, a farmer from Kuda Medawachchiya, told the Sunday Times last week that it had become impossible to protect crops with elephants attacking villages at night.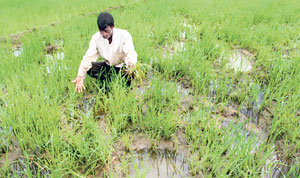 Elephant footprints leave a trail of destruction across a paddy field in the Puttalam area.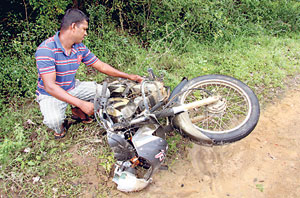 Harrison Peiris shows his smashed up motorcycle
Mr. Peiris appeared to be so frightened that he said he even left his motorcycle worth more than Rs 1 lakh and ran away from an elephant that he had encountered there. "On seeing me the elephant smashed the vehicle in a rage," he said, adding that when he sought compensation for the damage, the administration refused.
S. M. Sirisena, chairperson of a farmer association, said that herds of elephants have been destroying vegetation. "Farmers spend sleepless nights as the damage is high. An acre of paddy land costs us Rs. 15,000 for a single harvest," Mr. Sirisena said. He described as "unsatisfactory supervision", the involvement of the Department of Wildlife Conservation (DWC).
Calling the crop losses "unbearable", another victim, a woman from the Puttalam district said that bank loans taken for farming could no longer be repaid. Almost all divisions in that district have been affected. More than 1,000 acres of coconut growing land was recently trampled on by elephants.
Of late, papaya and other vegetable growers suffering the elephantine fury too withdrew from the fields. According to her and other victims, lack of government compensation for the losses, added to their woes.
The government seems to be gearing up to the challenge not through compensations or human-elephant cohabitation programmes but by way of a "civil security army." Sources in the government said that 3,000 armed men and women would be dispatched to the north east next month to "protect people and crops" from elephants.
The situation, according to conservationists, has arisen out of "human incursions into animal territories." Jayantha Jayawardene, managing trustee, Biodiversity and Elephant Conservation Trust, told the Sunday Times last Friday, "the natural habitat of wild animals has been greatly reduced in Sri Lanka."
Some estimates suggest that 80 per cent of this country's land area may have been covered by forests in 1882 when the human population could have also been well within a million. Now with more than 20 million people living here and with just 18 per cent of the land under forest cover, the space for wild animals has shamefully shrunk.
Increase in human population and deforestation are being cited as reasons for the human-elephant conflict. According to the DWC, "the conflict between man and elephant is the major cause of elephant mortality."
While conservationists have argued that the minimum viable population space of elephants ought to be five square kilometres per animal, wildlife officials seemed to think that the allocation of space to individual animals also depended on the quality of terrain.
However, according to the DWC, around 290 humans are present per square kilometre in Sri Lanka. While this country's last elephant census was held in 1992, conservative estimates from government officials put the present figure at more than 6,000.
Also, the human-elephant ratio in Sri Lanka stands at 5000:1 (as per private conservationists) making it inevitable for the animals to look for food outside their natural habitats.
Villages surrounding wildlife reserves and sanctuaries have been particularly vulnerable to elephant depredations. The easy availability of nutritious crops in such villages makes elephants eager to return each night.
The fact that more than 70 per cent of the elephant ranges exist outside protected areas and within agricultural areas, is another cause for concern.
According to Dr. Jayawardene, the Department of Wildlife Conservation would have to do away with its "ad-hoc policies on such subjects and instead focus on long-term visions." Reacting to media reports of rogue elephants and their temporary removal to protected areas may not be the solution, he said.
Recent studies both in India and Sri Lanka have indicated that tranquilising and transporting elephants from one area to another seldom helps because elephants appear to have their respective "home ranges" and they are unhappy to be displaced, leading to worse behaviour in the "new" place.
Some of the worse-hit areas of human-elephant conflict in recent times have been Galgamuwa, Kebitigollewa, Horowupotana and Mihintale in the North Central Province and Mannar in the Northern Province.
Most of the electrified fences, set up 20 years ago, are in varying stages of disrepair. A total of 1,400 kilometres of electrified fences are currently present, in many instances, even at the wrong places.
In 2006, the government had formulated the National Policy for the Conservation and Management of Wild Elephants in Sri Lanka. While the policy was to be revised and reviewed every five years, even at the end of 2010, it is just being taken out of cold sorage.
"Unfortunately, the policy has not been fully implemented. We have started some of the work and we are committed to its implementation but there are practical problems," director-general, DWC, Chandrawansa Pathiraja, told the Sunday Times last Friday.
Dr. Pathiraja said that he had submitted a proposal on elephant conservation and reducing their conflict with human beings to President Mahinda Rajapaksa a few days ago. That policy had envisaged among other initiatives, the creation of elephant conservation areas of not less than 50 square kilometres each. The creation of elephant management ranges and providing agricultural extension services for cultivators in such areas.
The policy also talked about offering credit access to farmers and facilitation of access to markets where cultivators could sell their crops, early warning systems for possible elephant attacks on crops and insurance schemes for affected families. An outright payment of Rs 15,000 to children of those killed by elephant attacks was also to have been mandatory since the policy was announced in 2006.
Even as Rs 300 million of the taxpayers' money is being spent on managing human-elephant conflict, each year not less than 200 elephants and 50 humans are reported dead.
(With extra material and pictures from Hiran Priyankara Jayasinghe)