A crewmember on board a vessel that participated in the ceremonial opening of the Mahinda Rajapaksa Port in Hambantota on November 19 has gone missing without a trace and feared dead, according to officials.
Director General Merchant Shipping, A.W.H.S.S.R. Weerakoon told the Sunday Times that Electrical Engineer Nimal Caldera was reported missing from the 'Seruwila', during a roll call of the crew on November 20, in the South Indian port of Cochin, a day after the vessel sailed from Hambantota.
"It is believed that the man had fallen overboard somewhere along the voyage from Hambantota to Cochin. However, the matter is being investigated with an open mind, and we expect more information on the case once the vessel returns to Colombo," Mr. Weerakoon said.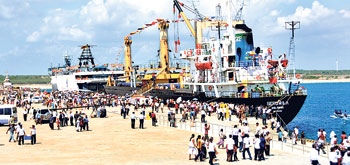 All decked for the occassion: M.V. Seruwila ship at the port in Hambantota
The ship's owner, Santha Gomez said the victim has been confirmed dead according to reports reaching Colombo from the vessel's captain and other crew members.
"We are now in the process of gathering more information to be forwarded to the relevant authorities, to sort out the necessary compensation payments and other related issues pertaining to an incident of this nature.
"This is an incident on the high seas, and foul play has been firmly ruled out. The London insurers have also been notified in this connection," Mr. Gomez said.
The 'Seruwila', along with the Navy-operated cruiser Jetliner, and another owned by the Ports Authority, were part of the grand opening of the Mahinda Rajapaksa port last Friday.
Meanwhile the International Transportworkers' Federation (ITF) has also called for a full report from the authorities concerning this case.
Local ITF Inspector Ranjan Perera told the Sunday Times that they would be closely monitoring the case to ensure that the next of kin receive the necessary compensation payments.