Newly appointed Minister of Wildlife, S.M. Chandrasena, at a meeting on Friday afternoon, instructed his officials to ensure that elephants are transported in spacious vehicles, without endangering their lives, following the tragedy that befell a tusker last week.
The Minister has also called in the Criminal Investigations Department (CID) to investigate the circumstances surrounding the death of the tusker while being translocated from one area in Galgamuwa, in Anuradhapura District, to another.
Mr. Chandrasena said that initial reports suggest that the tusker's legs had broken through the floorboard of the truck in which the animal was being transported. The elephant was about 40 years old and about nine feet in height, with tusks over 5 ft in length.
A team comprising Dr. Basil Alexander of the Peradeniya Veterinary Faculty and Dr. Nihal Wedasinghe, Director-Health Department, North Central Province, reported that death was caused by the animal's body repeatedly thrashing on the lorry, which caused damage to his heart.
It was earlier reported that this elephant had attacked four men, killing one and severely injuring the other three and had also destroyed some houses in the Dalpathagama in the Galgamuwa area.
Wildlife Department officials including Dr Tharaka Prasad, an experienced vet and the zonal officer C. Jayasinghe had launched on Monday the operation to capture the tusker for relocation.
The elephant had been tranquilized and was being taken to another location on Tuesday, when it had started attacking the vehicle with its tusks, which resulted in a gaping hole.
Though the animal was freed of the ropes securing it, it had not got off the vehicle. Instead, the animal had struggled drooling from its mouth, and around night time it had died. Villagers who witnessed the tusker's demise, claim that, Wildlife officials were unable to take speedy action to rescue the animal.
"May be, they too did not have the resources to do that, but the reality is that the animal suffered," a villager said.
Though Wildlife Department vets have been complaining of the shortcomings over the last few months, no remedial measures had been forthcoming they say.
The elephant, however, was given a fitting burial with religious observances by monks and the participation of the villagers.
Additional reporting by Athula Bandara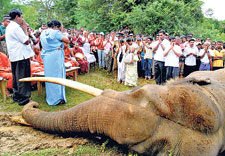 Last rites for a fallen tusker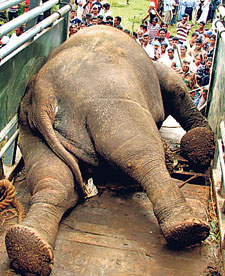 Cruel death in a lorry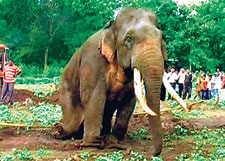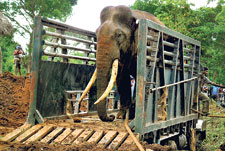 Scenes before the final tragic journey. Pix by Athula Bandara and Hiran Priyankara Jayasinghe