The Budget proposals for the coming year, submitted by the President, has done little to ease the burden of the cost of living of consumers, despite public sector salary increases, tax reductions and increases in pensions.
Food prices continued to rise this week, as traders blamed adverse weather conditions for the high prices of vegetables and other food items. Furthermore, reduced spending by consumers has resulted in some traders selling their products at a loss.
Food is costly
Prices of food items including beans, carrots, onions and potatoes have all increased in the last week. A kilo of beans increased from Rs 120 to Rs 180, while the price was only Rs. 91 a year ago. Carrot, pumpkin, ash plantain and brinjal have all increased by Rs 10 per kilo this week. The retail price of tomatoes has increased from Rs 75 last year to Rs 100 this week, while red onions recorded an increase of Rs.60 since last year. Big onions were a mere Rs 69 last year, but are currently sold at a retail price of Rs 140. Samba rice and potatoes showed decreases this week by Rs 15 and Rs10 respectively.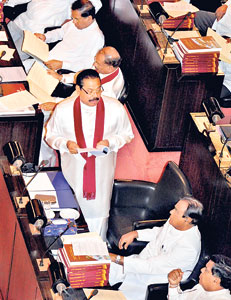 President Mahinda Rajapaksa reading the Budget speech in Parliament
President- Old Moor Street Traders Association, K. Palaniandy told the Sunday Times that the Budget proposals would not affect the pricing of food items, as no additional import taxes had been imposed.
"The problem is that prices are high and consumers are purchasing less now. A consumer who purchased 5kgs of a particular food item, will now try to make do with 3kgs. This has affected traders who are now selling some items at a loss," he said.
Mr. Palaniandy assured that rice prices won't increase further, as there are ample stocks with which to flood the market, but with adverse weather conditions, both in Sri Lanka and India, food items such as potatoes and onions will continue to rise.In October, the Colombo Consumer Price Index showed a point to point increase of 1.2% from the previous month, and an inflation rate increase of 6.6%, in comparison to the corresponding month in 2009.
Token relief
Despite the desperate cries of the public, for some sort of relief, the government has proposed only a 5% salary increase to public servants, while granting a further Rs 600 per month as Cost of Living (CoL) Allowance.
Meanwhile, pensioners have been granted an increase of Rs. 250 per month to their CoL allowance, while those who retired before 2003 will receive a Rs 750 increment, and those who retired between 2003 and 2006 will be granted an increment of Rs. 250.
Dim the lights
The government will also increase electricity tariff by 8%, except for the first 90 units of use, which has caused concern among consumers, as only about 15% of them use less than 90 units per month. However, tariff for government hospitals, places of worship, schools and vocational training institutions will be reduced by 25%.
Secretary- Lanka Viduli Sevaka Sangamaya, Ranjan Lal claimed that, according to the Ceylon Electricity Board (CEB), it had made profits of Rs. 772 million for the last four months. Union members claim that, despite these profits, no efforts have been made to increase salaries of CEB employees, while electricity tariff should have been reduced.
He said that the CEB had achieved its plan of being debt free as suggested by its profits, and should now pass the benefit onto its employees and consumers.
"CEB employees are not affected by salary increments in the Budget, as there is a separate increment system for its employees. We had to work very hard to get the increments we were supposed to get at the beginning of 2009, or we would have been told to settle for the 5% increase proposed in the Budget," he said.
Good ole faithful
The proposed tax revisions are said to increase overall tax revenue by 17.8%, while 60% of the Rs 423 billion tax revenue of the government will come from taxes on goods and services. This is also aided by the tax increase on profits made by liquor and cigarette manufacturers, as well as casinos, from 35% to 40%.
Furthermore, the increase in vehicle registration fees will generate Rs 1 billion in additional revenue, while the Nation Building Tax has been reduced from 3% to 2%. Taxes such as the Social Responsibility Levy and the ports and airport tax on medicine have been abolished.
It's a budget existence
Interviews by Mirudala Thambiah
A cross section of the public reacting to the Budget proposals, said they expected more on measures of reducing the cost of living. Views expressed by the public follows;
"The President has asked the Self Employment Societies to conduct a relief promotion programme for us. Therefore, the President is supportive of us to take our life on a better path. I welcome this attempt very much. However, since the cost of living is very high, I'm having problems fulfilling the daily needs. I was waiting for the government to give a solution to the cost of living in the coming Budget, and reduce our day-to-day expenses."
- V. Raveendra, Kolonnawa, Three-Wheeler Driver
"The Budget has not included anything for small entrepreneurs like me. My income is very low these days. In this situation, if the cost of living is very high, how can I survive? People like me haven't received any relief, without which it is very difficult to cope with the present expenses. Since my income was very low for the last month, I'm unable to pay the rent on my shop. I appeal to the government for some relief in the Budget, for the poor like me."
- K. Podinona, Welimada, Handicraft Shopkeeper
"It's a very good development Budget. Economic growth from 8% to 9%, is appreciated. Salary increment for public sector employees is a good improvement. Only those in the low income groups would face difficulties due to the rising cost of living. I think the President is following the development of Singapore. I welcome the tax increment on alcohol and cigarettes. The Banking sector is doing pretty well, economically, we are stable."
- Thilan Dayalan, Kotte, Bank Employee
"The Budget is good. I expect the government to reduce the cost of living; it will be very helpful to maintain a balanced lifestyle. If this request is granted, I will be very supportive of the government. I think the government has included many development projects for the country, which is very welcome."
- Mohammed Anaz, Maligawatte, Shopkeeper
"Prices of dry rations have risen. The poor have a difficult situation to face when it comes to the cost of living. I am unable to buy milk powder since the price is very high. Therefore, I'm not satisfied with the Budget. The President is spending for development. I welcome that, but, if he focuses on the cost of living side too, it will be good. I was expecting some kind of relief."
- R. Sinnakumar, Modera, Lottery Ticket Seller
"Though the Budget looks impressive, the prices of goods are high, and we are unable to fulfill some of our daily needs. I'm looking forward to the reduction in the prices of goods".
- C. Sinduja, Jaffna Employee

"Nothing new has been included in the Budget, with regard to reducing the cost of living. Reduction of the Business Turnover Tax (BTT) was good. I welcome such an improvement in the Budget."
- K.D. Wijeyasena, Dambulla, Retired Principal
"I'm not happy with the Budget. The cost of living is very high. When only one person in the family is employed, it's very hard to make ends meet. My family has been displaced from the north, and if I had to face high expenses, it would be difficult.
- Mrs. S. Balachandran, Wellawatte Housewife
"The Budget has not given any relief at all. They have increased the cost of living and I'm unable to balance my expenses. They are increasing the electricity tariff, prices of coconut, coconut oil, sugar and milk powder are on the rise. I'm unable to pay my finance and fulfill the needs of my family, due to higher expenditure."
- D. Karunapala, Piliyandala, Three-wheeler Driver