Thousands of flag waving Catholics braved the slight early morning drizzle and lined the streets to greet Sri Lanka's new Cardinal Malcolm Ranjith when he arrived at the BIA and was taken in a motorcade to the National Basilica at Tewatte in Ragama.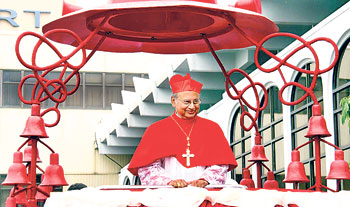 The new Cardinal being taken in an open motorcade from the BIA.
The new Cardinal on arrival at the BIA was received by Prime Minister D.M. Jayaratne, several bishops, archdiocesan coordinators and state officials. The Maha Sangha chanted pirith at the airport lounge to invoke blessings on the new Cardinal.
At the Basilica, the new Cardinal paid homage to the country's first Cardinal, Thomas Cooray, before celebrating Holy Mass. Later the motorcade proceeded to Archbishop's House in Borella. On December 4, Cardinal Malcolm Ranjith, other bishops and the Papal ambassador will concelebrate Holy Mass at St. Lucia's Cathedral, Kotahena at 9.30 a.m.
On December 6 (Monday) a State reception will be accorded to the new Cardinal at the BMICH.
Cardinal Ranjith was among 24 new prelates who received the red hat from Pope Benedict XVI at the Vatican last week.