The standard of club cricket has deteriorated. An interim body running cricket is not good for the game.
There is not enough outstation cricket in the country. These sentiments were expressed by Retd. Air Vice Marshall Ravi Arunthavanathan in an interview with the Sunday Times.
Arunthavanathan spoke with authority on cricket. At the administrative level he was Tournament Director at the Junior Under 19 World Cup held in Sri Lanka during 2000 where 16 countries participated at 14 venues including Radella. The competition ran for three weeks.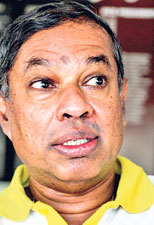 Ravi Arunthavanathan – Pic by J. Weerasekera
India, led by Yuvraj Singh, emerged champions and Harbhajan Singh was adjudged the Player of the Series. The Sports Minister at that time was S.B. Dissanayake and the present President of Sri Lanka Mahinda Rajapaksa gave away the trophy as President Chandrika Kumaratunga had been indisposed at that time.
Arunthavanathan went down memory lane and recalled his cricketing days at Richmond College Galle where he was associated in a record partnership with Prasad Kariyawasam (presently High Commissioner for Sri Lanka in India). Ravi recalled that it was Kariyawasam who had done all the hitting in the Big Match against Mahinda in 1972 while he had held up the other end.
He was also the stumper of the Richmond XI. However this record partnership had been short lived because Sirisena Hettigoda of Mahinda had broken the partnership by hammering a record 156 to overtake the earlier partnership of 155. The game had ended in a draw.
That same year Ravi joined the Air Force in the second intake of cadets. He served the Air Force dedicatedly for 36 years and at the time of retirement he was Air Force Coordinator to the Ministry of Defense.
During this time he had played a key role in fashioning sports in Sri Lanka. In 2007 he was in the Commonwealth Games Assembly which decided to stage the Junior Commonwealth Games in Glasgow, Scotland in 2010.
It is very reliably understood that Sri Lanka will be represented by a cycling team at this competition as Cycling is going to be a major schools sport from next year.
At school level Ravi had also taken an active interest in football and athletics. He had represented Richmond in the 110 meters hurdles event and had been placed fourth at the Public Schools meet that year.
Cricket and Football to had kept him busy. He turned out for the Air Force in the Daily News Division III contests in cricket while in football he had rubbed shoulders with greats such as Mahinda Palitha and Sumith Walpola. He had been in the football administration as well having been Chairman of the Air Force Football Committee which paved the way for him to be Vice President of the Football Federation.
Then came his major sports assignment when he was elected President of the Galle Cricket Club taking over from another sports icon Ana Punchihewa.
Ravi had worked tirelessly for six years and had put Galle CC firmly on the cricketing map. During this time the Galle CC Stadium had taken shape and after a great service to Galle CC and outstation cricket in general, he handed over the reins of this 138-year-old club to Jayantha Dharmadasa in 2001.
Galle CC is now the main outstation cricket playing club in the country and they entered the Premier Division in the 1999/2001 period.
That is not all, whilst at Air Force he had played a major role in Motor Sports as well by conducting the Katukurunda Motor Races while being Chairman of Motor Sports.
During his illustrious career in the SLAF, Ravi had served as Deputy Chief of Staff of three Air Chiefs in Harry Gunatilleke, Dick Perera and Walter Fernando being their Aide-de-camp. He has also seen and taken part in several successful Air Force campaigns against the now defunct Tamil Tigers.