'Derana Music Awards 2010', one of the most popular music awards, conclude in a grand note last week at the Galadari Hotel.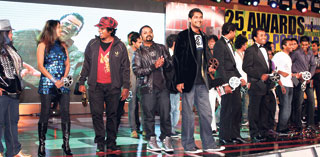 Winners take it all
The cream of new generation singers of Sri Lankan music scene was presented at the music award ceremony, where Lahiru Perera won the 'Most Popular Music Video of the Year' (Through sms)for his toe tapping song 'Rambari'. Bathiya and Santhush bagged the Silver for the song 'Sri Lanka Matha', while Iraj Weeraratne collected Bronze for 'Gemak Deela'.
BNS won the Most popular web video Award for their popular hit 'Oya Magenam' Popular young singer Sureni de Mel won the Best Overall Act by a Singer (Female) Award for her ever popular 'Adambari' , while its male category bagged by Amila for his song 'Jhon Zeena'. 'Adare Ansu Mathraya' by Indrachappa Liyanage won the runner up category.
The main stream awards were mostly won by Sri Lankan rock, R&B and Hip Hop musicians.
Rock band 'Funeral in Heaven' bagged the top awards for Best Sri Lankan Rock Video and Best Sri Lankan English Video for their song 'Winds of Uva', while Iraj won the Best Sri Lankan Hip- Hop Video for 'Gemak deela'.
Best Sri Lankan Pop Video Award collected by Amila for his 'Jhon Zeena'. Rap artiste Vinodh won the 'Best Rap Performance' for his 'Man Thaniyen Awidin'.
Here are the other categories of the Derana Music Award winners
1. Best Sri Lankan Tamil Video : Nagara Wettei: Dinesh K. & Shabir
2. Best International Collaboration : Get High: Jayasri + ROD – Global Deejays
3. Best Experimental Video : Gemba: Collin & Nuwan
4. Best Alternative Video : 10,000,000: Project Aneka
5. Best Patriotic Video ( No awards following are only nominations) Pahan Siluwa: Bertram Charles,
Lanka Matha – BNS, Sebalanane – Ranidu and Hero's – Sanjaya Bandara.
6. Best Video Adaptation of a Movie Song : 'Adare Ansu Mathraya' : From film How I Wonder - Indrachappa Liyanage
7. Best Use of Special Effects : 'Scooby' : Indika Wickramaratne
8. Best Fully Animated Video : 'Thiththa Panirasa' – Ranga Cooray
9. Best Music video of the year : 'Winds of Uva' - Funeral in Heaven
10.Best Direction : 'Adare Ansu Mathrayak': Udaya Darmawardana
11.Best Cinematography : 'Adare Ansu Mathrayak': Udaya Darmawardana
12. Best Editing : 'Adare Ansu Mathrayak' : Kavinda Mudalige
13. Best Concept Video : 'Gemba' : Collin & Nuwan
14. Best Special Effects : 'Oya mage nam' : Wide Angle Productions
15. Best Art Direction : 'Gemak Deela' : Bimal Dushmantha
16. Best Choreography : 'Ojaye' : Lasantha Pramuditha