On a warm, sunny day, October 22, the calm and peaceful town of Eratne lay before us, 12 members comprising veterans and novices of the Field Ornithology Group of Sri Lanka (FOGSL) who were to go 'birding' for two days in the Peak Wilderness.
Adawikanda was our last stop before the long climb to our abodeSeethagangula Nawathanpola began by foot. Peak Wilderness nestles in the centre of the Western ridge of the Central Highlands, north-east of Ratnapura. The wilderness also stretches towards the borders between Central and Sabaragamuwa provinces.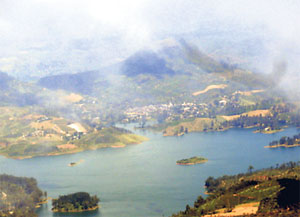 Mousakelle reservoir
With an abundance of treasures and mysteries, Peak Wilderness has been classified as the most constantly wet part of Asia, west of Borneo.
Our slow and tedious walk lasted for about 4 1/2 hours. Despite the fatigue, we were in awe of our surroundings. We had lunch near a site where a dam was built, to make use of waters of a cascading waterfall to generate electricity to the villagers as well as the national grid.
Cool winds and water replenished us for awhile. Back on the route, we increased our pace, knowing we had to reach our destination before nightfall. The valley spread before us, as we climbed higher. Through trees and shrubs we could get a peek at the vast expanse of greenery beyond.
After walking, stumbling and panting along the distance, we spotted the Ambalama with relief. The waters of Seethagangula beckoned us. Tents were put up, by the able men while Mahatun Mama, a faithful guide and friend of members of FOGSL for the past five years, along with his aides, Bandara and another, got the hearth going for the preparation of tea and dinner.
The only women in the group, Komila and I hurried to the river to take a wash before it grew too dark. While we attempted to hide behind a rock for privacy, we later heard that a troop of monkeys had apparently been watching us from a tree!
Morning dawned on the 23rd, after a terribly cold night. The few Buddhists in the group were hoping to climb Sri Pada. After much thought, I decided to join the seven of them to climb the rock. We began the long journey around 6 a.m. Four members stayed back to go birding in the surroundings adjacent to the Ambalama.
Legs aching, panting madly, slipping and struggling we trekked for about 1 1/2 hours before stopping over for a breakfast of 'Kadala' and coconut at a dilapidated ambalama, which during the season, would have been thriving with free meals and hot cups of tea for pilgrims.
The long trek began again with us being determined to spot a few birds to add to the list! It was a treat, therefore, to see a Legge's flower pecker having its own breakfast, feeding on some small fruit. A Nuthatch pair was making a racket on a tree, presumably pecking away at some insects they had scented and spotted. We also saw Yellow eared bulbuls, Hill mynahs and Red vented bulbuls chirping away on that glorious morning. The air was fresh and pure and the sun shone bright and hot on us.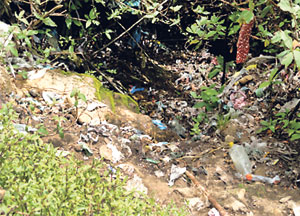 Carelessly strewn polythene on the mountain slopes
"Start climbing early, try to make it to the summit before 1 p.m. If you can't and even if the summit is just there to reach, you need to climb down looking at it, by 1.30 p.m. and reach the ambalama by 6 p.m." Dr. Newton Jayawardane and Chaminda Jayaratne had instructed us. We knew we had to keep to the deadlines and we were chasing time!
There were traces of elephant dung as we passed 'Batakelle'. A few blood thirsty leeches were meanwhile attacking us and some succeeded in making us bleed a fraction.
We reached the summit around 12.45 p.m. and the experience was awesome! Below us was spread the montane forest cover. Vast, pure untouched and spellbinding, the canopy was an umbrella amidst the clouds. We could see the blue waters of Castlereigh and Mousakelle reservoirs, and of course the winding path we took was also visible, making us aware of the long trek back on the same route. It was hot and sunny up there. The winds fanned us. After prayers, and a steaming cup of tea given to us by the security officers at the summit, we began our descent.
After lunch at Ahala Kanuwa Ambalama we began a steady descent making sure to pass Batakelle, before 3.30 p.m. We had to avoid elephants in case we ran into them!
It was disheartening to see volumes of polythene carelessly strewn down the slopes of the summit. Pollution, a burning matter of concern where ever we happened to go, was not strange even to the Peak Wilderness. We collected as much garbage as we could, and burnt it all at Galwangediye Kade Ambalama.
A prayer to see the Dollar bird was not answered. However, there were species of Yellow-eared and Black-capped bulbuls which greeted us on the way down. Mahatun Mama, bare footed, chirpy and agile, guided us right through. We reached our Ambalama by 6.05 p.m., much to our delight and probably to the relief of the others who would have been waiting for us. After the checklist was done, and dinner taken, we retired to our respective tents, to get whatever sleep we could before returning to base, Adawikanda the next morning.
Back at Adawikanda the following afternoon, everyone was eager to have a dip in the river. Bandara welcomed us to his humble home, to give us a delicious meal for lunch. We relished the waldel kos ata curry, a novelty for city dwellers.
Back in the van, I dozed. A few of us had to bid farewell to the group at Avissawella because we were Kandy bound. Back at home; to reminisce and re-live moments, it was a journey worth the effort. An important learning outcome was, to stay fit and healthy. Life becomes easier when one is in good health!