As the radio is switched on and energetic Latino beats reverberate through the room, a class of about 50 people dressed in tracks, t-shirt and sport shoes spring into lively dance. At first movement is awkward with swinging arms and wrong turns, followed immediately with apologies and laughter. Ten minutes later the class is more disciplined as they try to emulate their instructor's expert medley of dance moves.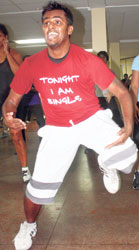 That's what the Zumba class is all about. A fun yet disciplined way to shape-up and burn stress. Zumba instructor Priyadharshan Ramasamy (28), better known as Dharshan, introduced Zumba to Sri Lanka a few months ago and within a short span of time Zumba has become all the rage. Zumba is described as a programme that fuses hypnotic Latin rhythms and easy to follow steps to produce a unique fitness programme that will get people hooked on it. While aerobics and gym routines are known to be quite effective, they're also known to be quite a bore, which is why most people who take up these exercise routines tend to abandon their workout gradually, says Dharshan.
When it comes to exercising it's important to maintain consistency to see results, and that's what Zumba offers. An addictive way to stay healthy, the participants are thrilled to have taken on the new fitness regime, "I've tried everything from swimming to going to the gym and nothing has worked. I heard about this from a friend and ever since I started, without having changed my diet or daily routine, I have lost weight", says Tania Cooray (32) satisfied with the results from her Zumba workout. Working a fulltime job Tania says though she joined the class to lose weight, she's regularly attends the classes as she finds it an ideal way to relieve stress.
Having joined the class 2 months ago and being a completely novice in Latin dancing, she shares, "it doesn't matter if you're at the back of the class or right in front, you can follow the steps easily and you don't lose out". The participants are as diverse as you can imagine. Unlike Tania, Saliya Thilakarathna (31) a commercial director and fashion photographer, has 6 years of experience in Latin dancing but strongly advocates Zumba. "Dharshan is a good friend of mine and I joined the class when he got it started. It's a very good way to keep fit but if you do it 'horata', while you will burn fat, you won't get in shape as fast as you would if you had done the exercise correctly", expresses Saliya about how the class is fun but discipline is necessary.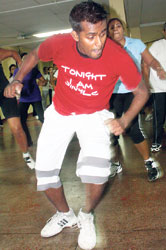 Speaking about the benefits of Zumba, Dharshan says "it will help you lose weight, keep your body in shape, relieve stress and maintain a high level of fitness. It's good for diabetic and cholesterol patients". He recommends that participants attend at least 3 classes each week and guarantees results. Designed to provide long-term benefits while having fun, Zumba is an exciting one hour session of calorie-burning and body-energizing dance moves that anyone can engage in.
Each session includes Latin dances such as Salsa, Bachata, Meringue, Flamenco, Cumbia, Samba, Chacha as well as belly dancing, waltz and a mix of hiphop and of course, freestyle. "It's about 60% Latin dance and 40% mix dance, which is why the best part of Zumba is that you feel like you're at a party", elaborates Dharshan. "You don't need any prior knowledge of Latin dances because there's no dancing in couples at the programme. You dance individually", he reassures.
While he introduced the Zumba fitness programme to Sri Lanka just three months ago, Dharshan has been a Salsa dancer for 5 years. He's been involved in health dance and Latin dance cardio workout. He flew to India when he first found out about Zumba, where he learnt how it's done. Having mastered Zumba, he has received certification from the USA, and currently conducts sessions in his space at Nawala road, Narahenpita. For more information about Zumba® you may contact Dharshan on 0777530799.