A Sri Lankan who came from a small-town school, Ruwanwella MV, then tried his hand at journalism as a provincial correspondent, and turned to the kitchen as his profession has done so well that he is leading the national team, from another country where he lives, at an international competition.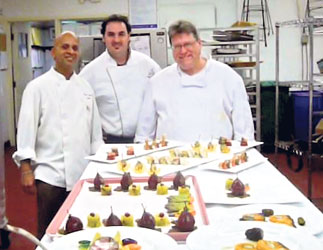 Picture shows from left: Chefs Ruwan Jayakody, Andrew Rajaratnam and Michael Pigeon with preparations ahead of the CWC
Ruwan Jayakody, now a Canadian citizen and an expert chef, has been picked to lead the Canadian Culinary team at the 'Culinary World Cup (CWC) 2010' to be held in Luxembourg-Kirchberg from November 21 to 24 alongside the 'Salon International de la Gastronomie' (International Gastronomy Show) EXPOGAST 2010 organized by the Societe des Foires Internationales de Luxembourg 'Luxepo' and other organizations.
The two events exhibit equipment, installations and machinery for food and beverages for hotels, restaurants, cafes, bakers, patissiers, confectioners, ice cream makers, butchers and delicatessen owners, caterers and cooks and various gastronomic services etc. At CWC 2,300 top ranking chefs from 51 countries will present a global view of culinary art.
In an interview by telephone, Mr Jayakody told the Business Times that he started as an engineering student at the Katubedda University in 1980 but dropped out due to financial constraints at home and joined the then Ceylon Hotel School. He was then posted to the Lanka Oberoi (now Cinnamon Grand) as an apprentice cook.
He served many top Sri Lankan Hotels like Taj Samudra, Airport Garden and Colombo Hilton. He was a pioneer member of the Chefs Guild of Sri Lanka in 1988 mooted by Hilton Executive Chef Gerard Mendis. He also has helped Mr Mendis at the Hilton opening.
Mr Jayakody said he moved to the Middle East as an executive pastry chef in one of the hotels in Oman, proceeded to Europe where he won a scholarship to study in Sorbonne University in France. Advancing in career he moved to various other countries in Europe and in 1992 came back in Sri Lanka to work as the Executive Pastry Chef at Mount Lavinia Hotel. In 1994 he set foot to Canada and after his marriage in 1996 he floated his own 'Ruwan's Culinary Inc O/A Ruwan's Cake Art-Toronto to become a major supplier of fine pastries and culinary creations to the hotel and restaurant trade in the Toronto Area. He also runs a real estate and property management company in Toronto.
He said his expertise earned him a chapter in the World Celebrity Chefs published in the United Kingdom and France in 1997, and having won a large number of international awards in Gold, Silver and Bronze, he was picked to represent Canada in many such competitions, a great honour bestowed to a Sri Lankan.
For the latest competition, Mr Jayakody has organised a joint Canadian-Sri Lankan team for one of the events. The Golden Horseshoe (GHC) Team Canada consisting of top Canadian Executive Chefs is led by Mr Jayakody .
The joint team venture - GHC and Heritance Sri Lanka comprises - Mr Jayakody GHC Team Captain; Sri Lankan born Canadian Dillup Attygalla, Rogers Centre, Toronto; Donald Williams, Best Western, Coburg; Anthony Fernandes, Crowne Plaza Hotel, Toronto; Sri Lankan born Canadian, Andrew Rajaratnam, Don Valley Hotel, Toronto and Team Manager and Dimuthu Kumarasinghe, Heritance, Sri Lanka Team Manager and Head Coach.