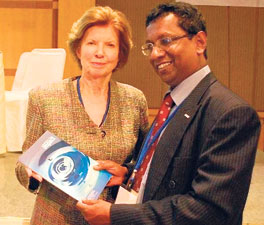 Seen here Mr Weliamuna with Huguette Labelle, Chair of Transparency International
Constitutional lawyer and human rights advocate J.C.Weliamuna has been elected to the Board of Directors of Transparency International (TI) at the Annual Membership Meeting of the leading global movement against corruption, held in Bangkok, the organisation said on Thursday.
Obtaining nearly 75% of the votes of the delegates representing 100 countries, he was first in the four-member contest. Two directors were elected on Tuesday. Jacques Terray of France was the other.
Mr Weliamuna is the first Sri Lankan to be elected to this prestigious position at TI's highest policy making body. As an anti- corruption activist, he steered TI's national chapter - Transparency International Sri Lanka (TISL) - as Executive Director for eight years.
Commenting on his election, Mr Weliamuna said that he would dedicate his time and energy to work towards a world free of corruption through this position.