Sri Lanka's Renuka Holdings this week posted its interim financials for the first half of year ending September 30 showing group after tax profits increasing to Rs. 616.5 million, or a year-on-year growth in profitability of 168%.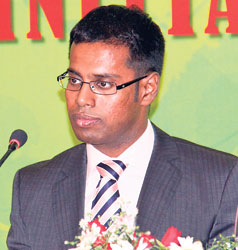 Shamindra Rajiyah
Also noted, as per the period under review, was that consolidated turnover for the group was Rs. 1.1 billion while group assets were Rs. 3.5 billion. Additionally, out of the Rs. 616.5 million group after tax profit, Rs. 473.6 million was indicated as being "attributable" to shareholders.
According to the group's Executive Director, Shamindra Rajiyah; "(Renuka Holdings) continued taking advantage of market opportunities investing in listed shares, taking unquoted equity positions and in debt instruments. Its total investment portfolio was Rs. 1.2 billion of which 81% was classified as short term investments and 19% as long term investments. Our investment portfolio, in addition, consists of biological assets and in this regard the group continued planting Teak and Mahogany." This from a group that has interests in plantations, manufacturing and exporting of Ceylon Tea, Coconut products, ethnic and organic foods along with forestry, logistics and portfolio management.
Also revealed was that there were plans to invest in property development and leisure activities. However, no specific projects have been indicated thus far. In addition, it also emerged that "the group is to soon embark on manufacturing innovative new beverages of Coconut and Tea and plans are being finalised."