BEIJING (Reuters) - China launched its second lunar exploration probe on Friday, boosting the country's efforts to rise as a major space power eventually capable of landing a man on the moon and perhaps one day exploring far beyond.
The Chang'e-2 lunar orbiter blasted off from a remote corner of the southwestern province of Sichuan a few seconds before 7 p.m. (1100 GMT), state media said, on the same day the country celebrates 61 years since the founding of Communist China.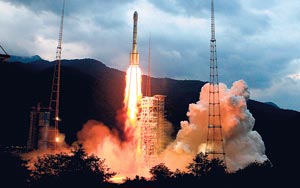 Long March 3C rocket carrying China's second unmanned lunar probe Chang'e-2 lifts off from the launch pad at the Xichang Satellite Launch Center in Sichuan Province. Reuters
"Chang'e-2 lays foundation for the soft-landing on the moon and further exploration of outer space," Xinhua news agency quoted head of the orbiter's design team Wu Weiren as saying. "It (will) travel faster and closer to the moon, and it will capture clear pictures," Wu added.
State television delayed the start of its main evening news to carry live pictures of the launch, bumping a story about the country's top leaders attending National Day ceremonies on Beijing's central Tiananmen Square into second place.
The Chang'e-2 is expected to fly as close as 15 km (9.3 miles) above the moon, testing skills and technology intended to pave the way for an unmanned landing planned in about 2013. It will take high-resolution photos of the moon's Bay of Rainbows, where engineers plan to land Chang'e-3, the official China Daily said.
China is jostling with neighbours Japan and India for a bigger presence in outer space but its plans have faced international scrutiny. Fears of a space arms race with the United States and other powers have mounted since China blew up one of its own weather satellites with a ground-based missile in January 2007. China says its aims are purely peaceful.
Mythical goddess
The Chang'e is named after a mythical Chinese goddess who flew to the moon. A successful Chang'e-2 mission would mark another advance in China's plan to establish itself as a space power in the same league as the United States and Russia.
Chief designer Huang Jiangchuan told Xinhua before the launch that Chang'e-2 may be given an extra mission — flying into outer space to "test China's capability to probe further into space". He did not elaborate.
In 2003, China became only the third country, after the United States and Russia, to send a man into space aboard its own rocket.
In October 2005, it sent two men into orbit, and in 2008 it staged its first "space walk", when an astronaut floated outside a vehicle orbiting the Earth.